Stage 2013/11 [A011]

North Bend - Charleston - Sixes - Port Orford - Ophir

80 mi / 129 km

1212 m (garmin etrex)
Cycling from North Bend to Ophir. Pacific coast Vancouver - San Francisco on a bicycle
Cycling from Vancouver to San Francisco following the Pacific Coastline.  
Stage from North Bend to Ophir following Oregon´s Pacific Coastline southbound.
One of the most epic cycling tours of the world.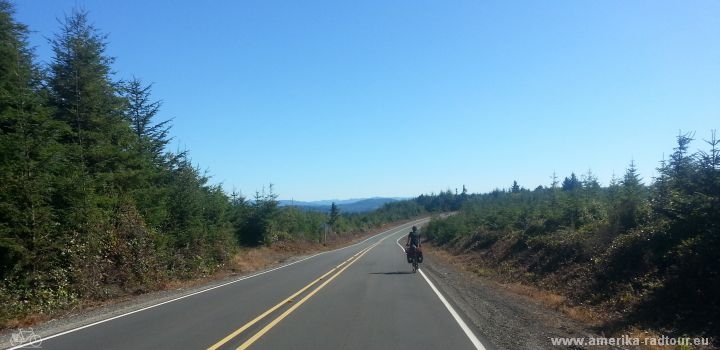 We leave North Bent heading to the south. In Charleston we turn left on 7 Devils Road. Navigation is simple: It is about the steepest road by far. After some meters we are on a plateau, which is 100 – 160 m above sea level leading through beautiful forest areas.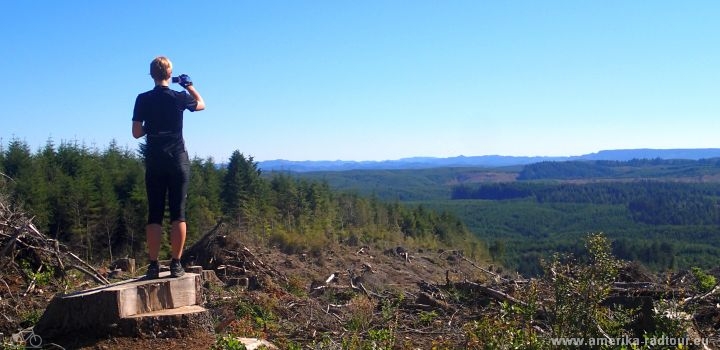 The road is almost free of cars offering wonderful views of the landscape.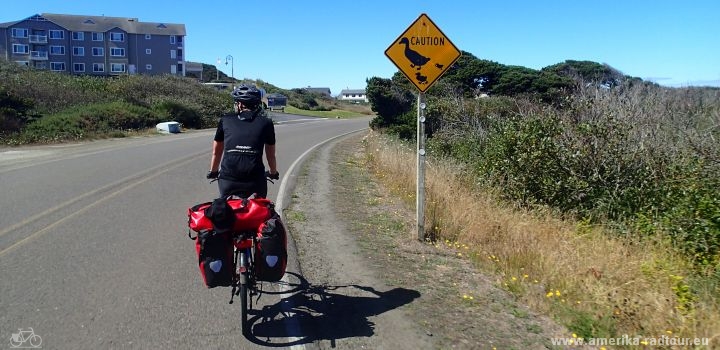 It is really surprising what you have to pay attention to on the road.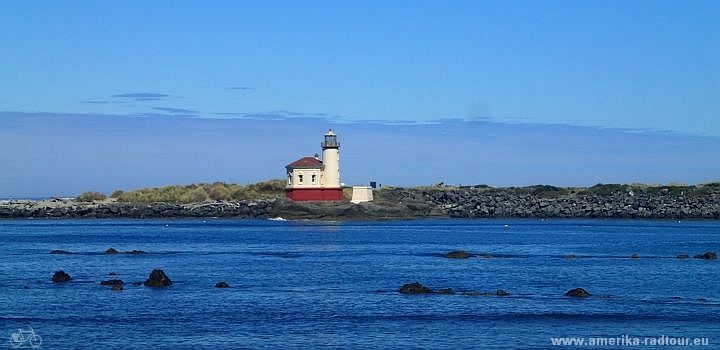 In Bandon, we cycle along the Coquille River towards the coast. We pass the Coquille River Lighthouse built in 1985 and start searching for something to eat. After having searched in vain all over the coastal area, we cycle back to the Highway in the city center and eat in a fast-food restaurant due to lacking alternatives.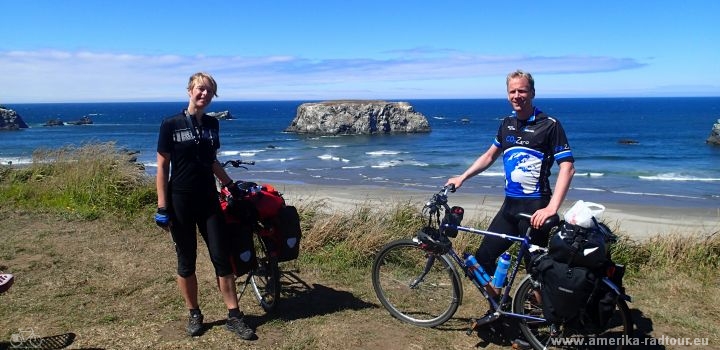 On our way back, we buy a donut we enjoy on a bench with a view of the rocky coast. I ask an elderly man, who is sitting on the neighboring bench, if he could take a photo of us. He takes the photo and tells us that he hasn't done anything else in hours. I envy him.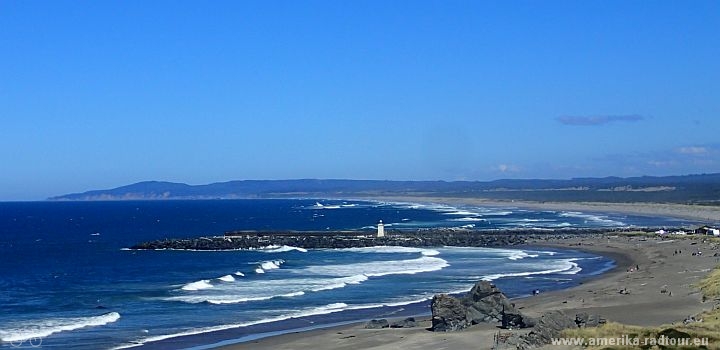 We enjoy the view of the coast and watch the big waves. I would love to remain seated here some more hours taking photographs.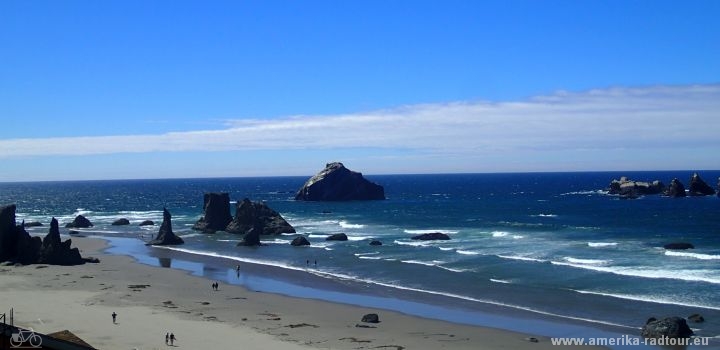 South of Bandon, we follow the Beach Loop Road offering spectacular views of the Pacific before cycling again on Highway 101.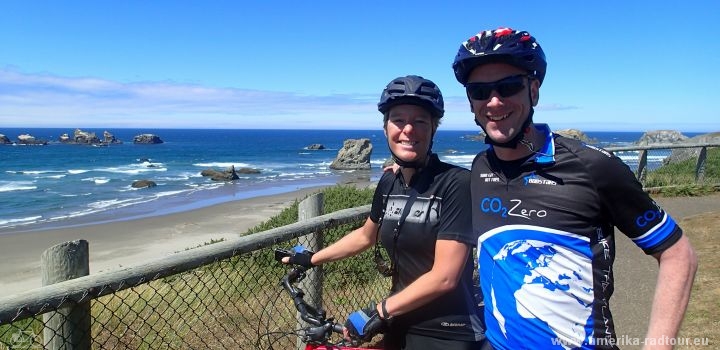 Along the way, we take more photo stops and enjoy the good weather.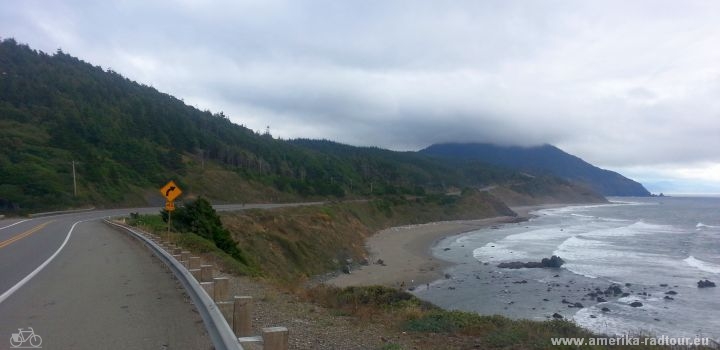 With Port Orford we cycle through the most western city of America (except for Alaska). However, we remember Port Orford for another reason: The weather suddenly starts changing. It is cold, wet and windy. The wind is particularly annoying since we lag behind our schedule anyway and are only able to progress slowly.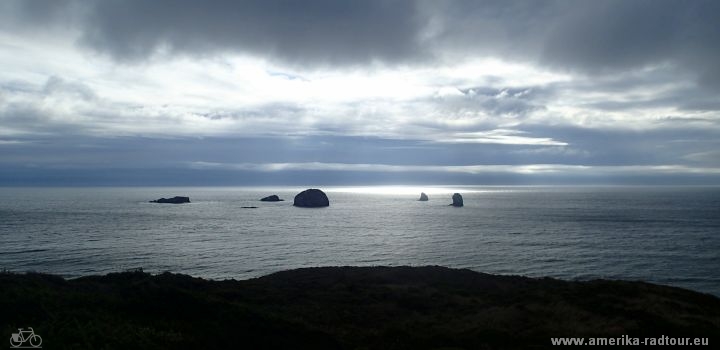 There are also positive things to be reported: The good weather is not gone; it's just somewhere else.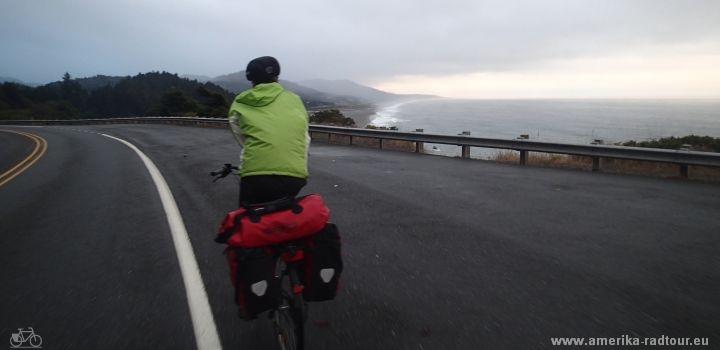 As we continue, the rain's becoming heavier and heavier, we are soaking wet despite rainwear.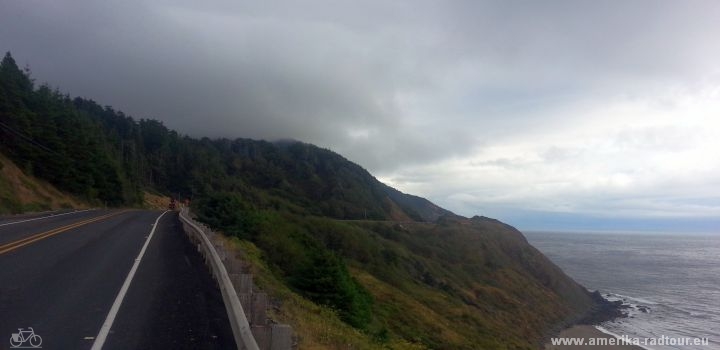 With a length of 80 miles (129 km) at 1212 meters in altitude it would also have become an exhausting stage without any back wind. However, with the wind it's becoming a real challenge.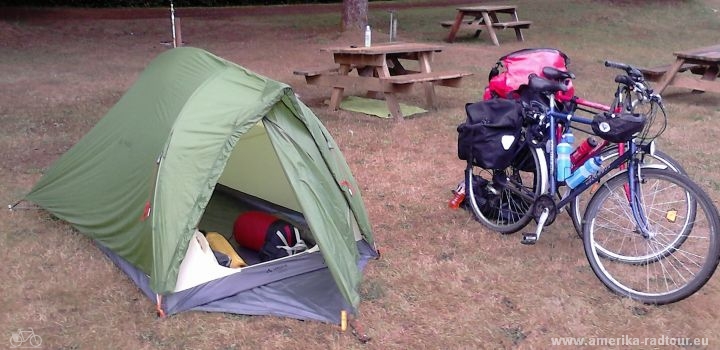 We arrive at the Honey Bear Campground at nightfall. There, the owner welcomes us in a friendly manner; for dinner we have German Bratwurst and German beer.