Stage 2013/13 [A013]

Crescent City - Klamath - Newton B. Drury Scenic Parkway - Orick - Patricks Point State Park

57 mi / 91 km

1177 Hm (garmin etrex)
Cycling from Crescent City to Patricks Point. Pacific coast Vancouver - San Francisco on a bicycle
Cycling from Vancouver to San Francisco following the Pacific Coastline.  
Stage from Crescent City to Patricks Point following California´s Pacific Coastline southbound to the Redwoods.
One of the most epic cycling tours of the world.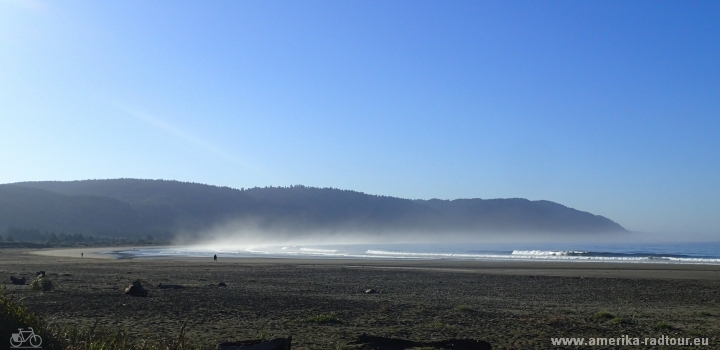 Since the hotel has not much to offer in the matter of breakfast, we leave Crescent City south, cross the Elk Creek and find a breakfast 

restaurant. As a result, we start the day with a big breakfast and an even bigger delay.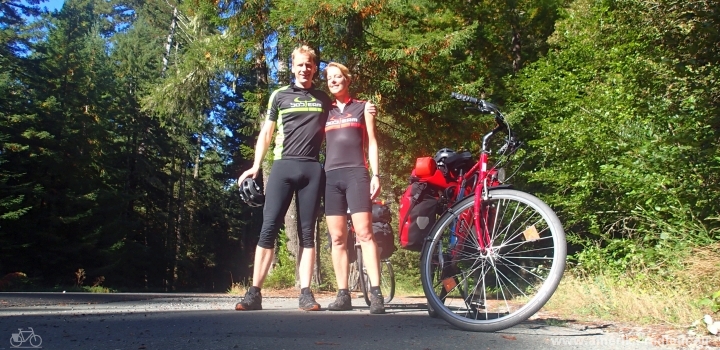 Directly after breakfast, there is the first gradient of the day waiting for us. With a gradient of up to 7 %, the Redwood Highway leads up to a height of 380 m. Since the rise is in the shade, we are glad about the warming sun on the peak.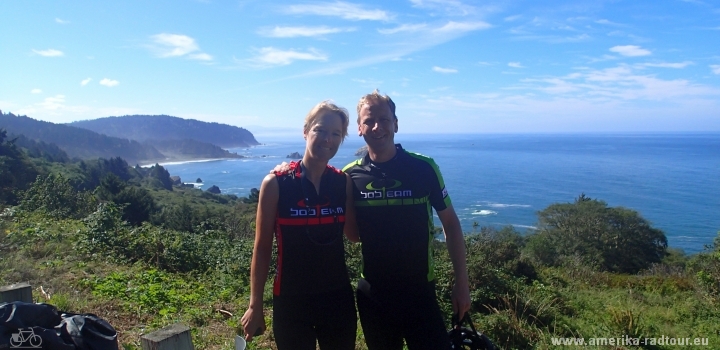 This part of the coast is densely forested.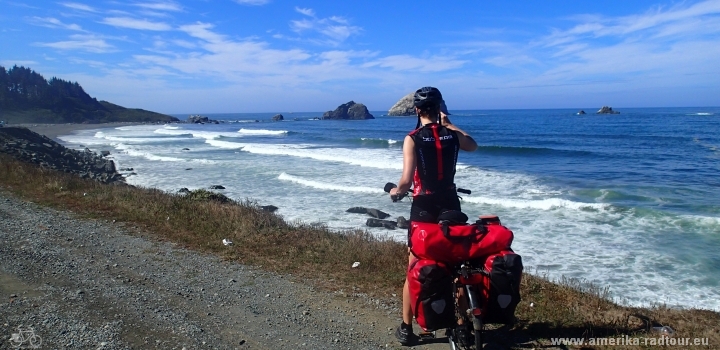 After almost 26 km we've overcome the gradients and we cycle again a longer route at sea level along the coast.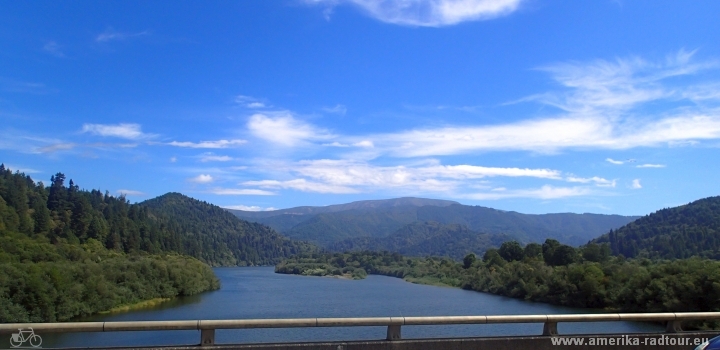 With the crossing of the Klamath River, the terrain's becoming hillier. First of all, we follow the Redwood Highway . . .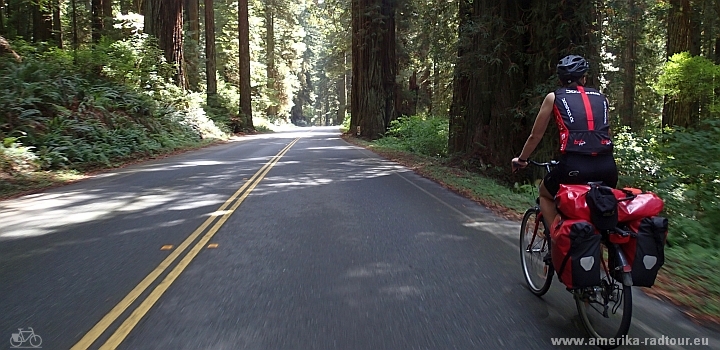 . . . then change onto the Newton B. Drury Scenic Parkway. First of all, the way becomes apparent by an additional 120 meters in altitude at a gradient of more than 5 %, then the vegetation is changing and we see more and more coast sequoia: the legendary Redwoods.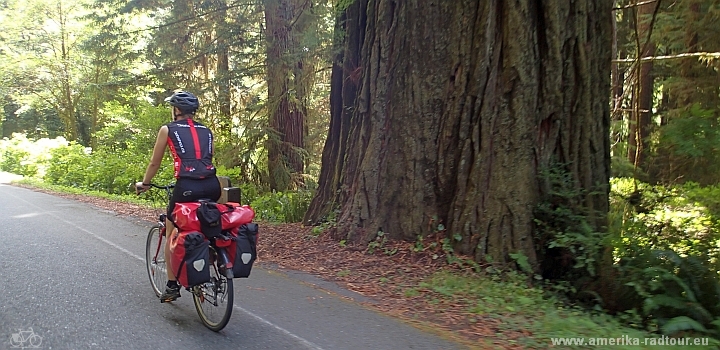 Here in Prairie Creek Redwoods State Park you can find the highest trees in the world. The Redwoods grow up to 110 m and have a diameter of more than 7 m. In 1902, only a single tree covered the wood need of 22 houses.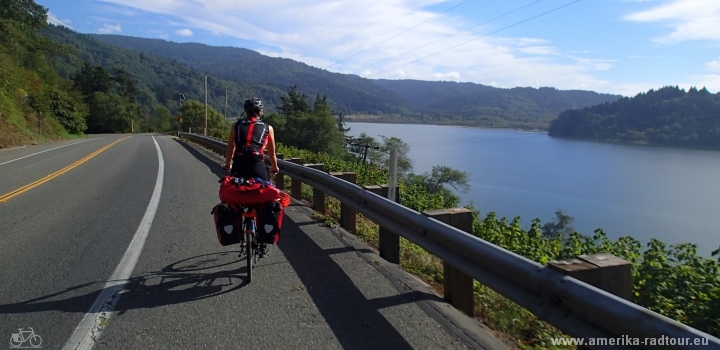 Redwood Creek.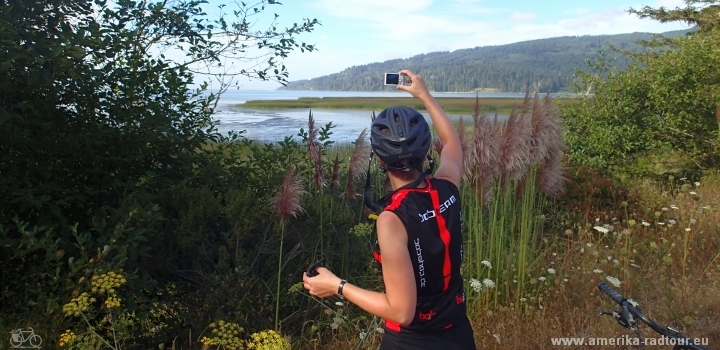 Not only the trees, also the grasses are worth a photo stop.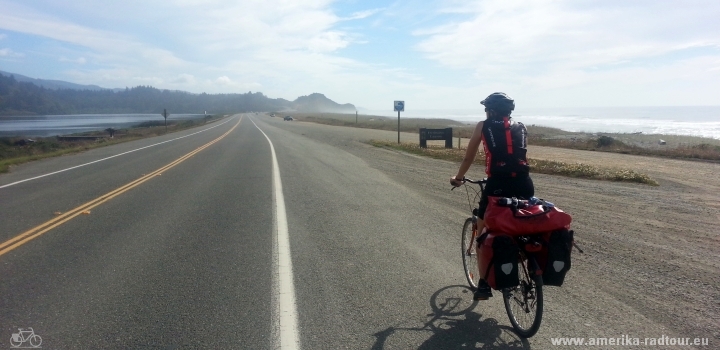 As we continue, the street is surrounded by water from both sides since a lagoon landscape has evolved between Pacific and mainland. We cycle past the Freshwater Lagoon, Stone Lagoon and Big Lagoon to struggle up the last steep gradient of the day to get to Patricks Point State Park.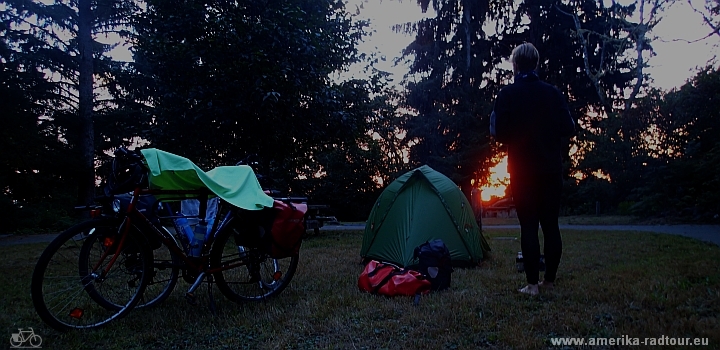 There isn't much going in Patricks Point Sate Park; we have a huge area for ourselves. With great foresight, we bought our food (dinner and breakfast) already in Orick.