Stage 2017/05 [A048]

Jigsaw Lake - Meziadin Junction - Stewart (Cassiar Highway, Glacier Highway)

⇨ 73 mi / 118 km

⇧ 860 Hm (garmin edge 1000)
Cycling from Smithers, British Columbia to Whitehorse, Yukon.
Stage from Jigsaw Lake via Meziadin Junction to Stewart following Cassiar Highway and Glacier Highway.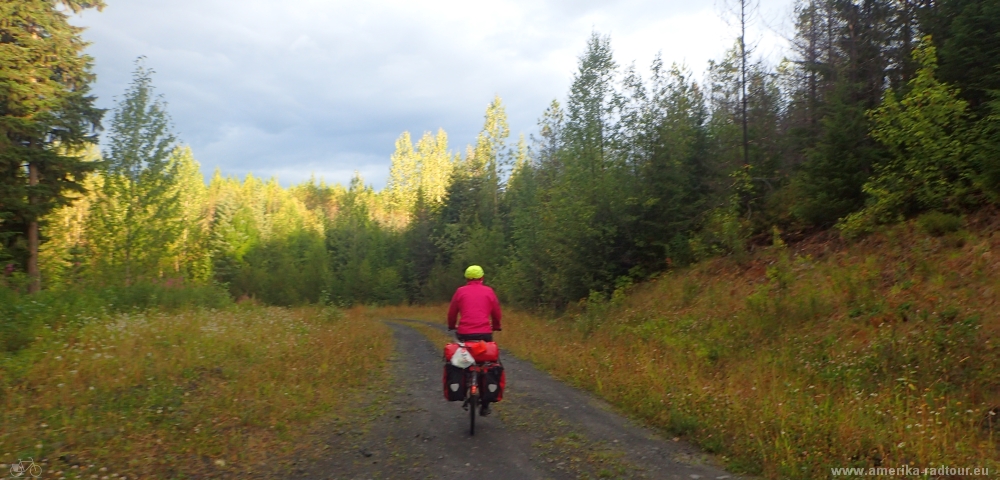 Last night it was 6 long miles from the Cassiar Highway to the lake on a bad road. Today it is still 6 long miles to go back to the highway and the weather is did not improve over night. But today it is all downhill.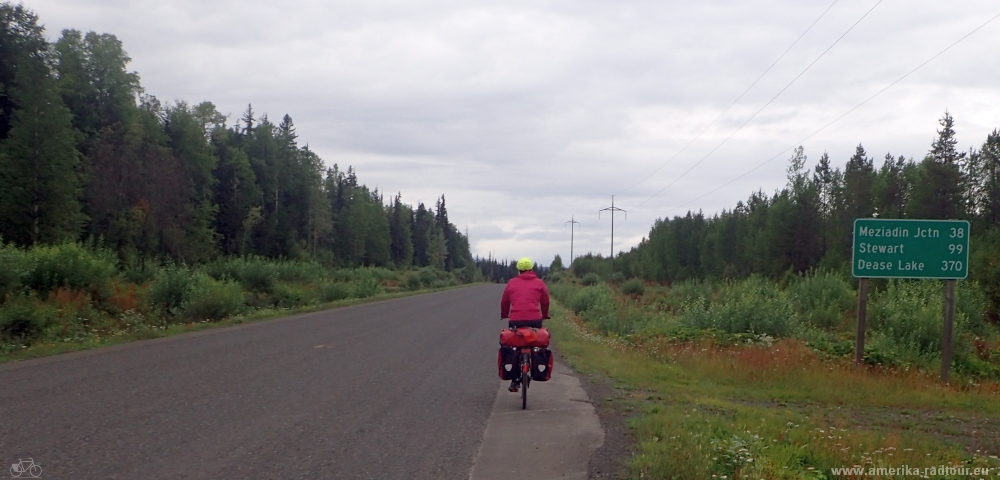 Back on the Cassiar Highway we continue cycling north.  

At Mile 89, the Cassiar Highway crosses the wet river, a most welcome change since there is no big change on the landscape here for miles. Again, the road surface made of wood, which is a slippery experience in today's weather.  

At Mile 97 we reach Meziadin Junction: here the BC Highway 37A branches off to Stewart. With today's rain, there is no reason for us to take a long break. The weather is not getting any better, so we carry on hopping to arrive in Stewart in time for dinner.

In good weather you can see various glaciers from the highway. Today only a few snowfields are visible, everything that is higher up disappears in the clouds.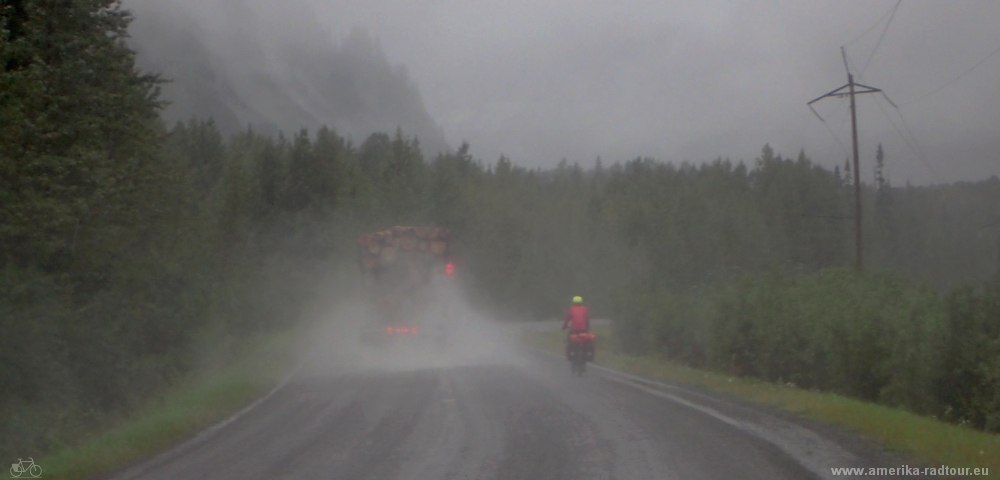 On our way north to Meziadin junction I was convinced that the weather can´t be any worse here in August. On our way to Stewart I had to find out how worse it can be. Now it is not only wet and foggy, but also freezing cold.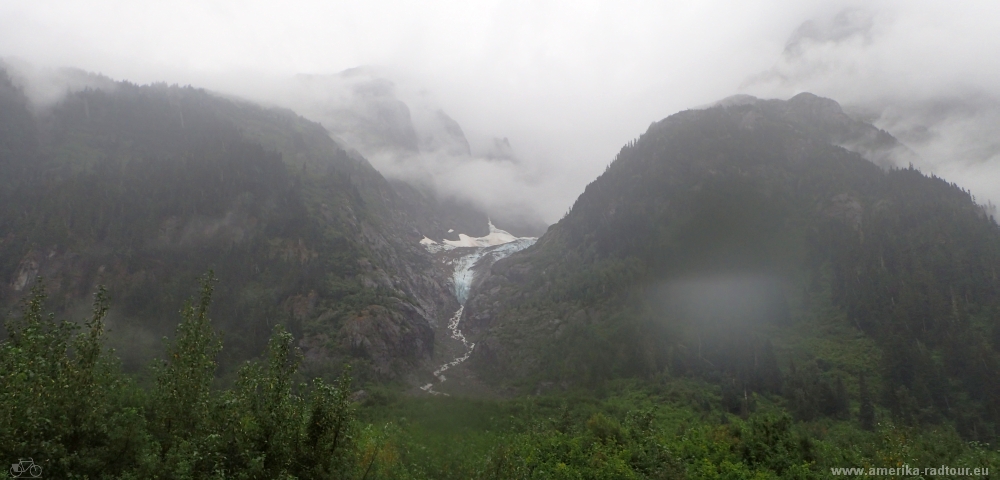 With the low-hanging clouds, the mountains south of us look really threatening. Even the rain is getting colder. The Garmin device shows a temperature of only 5° C - and unlike me the device sits in a protective silicone shell.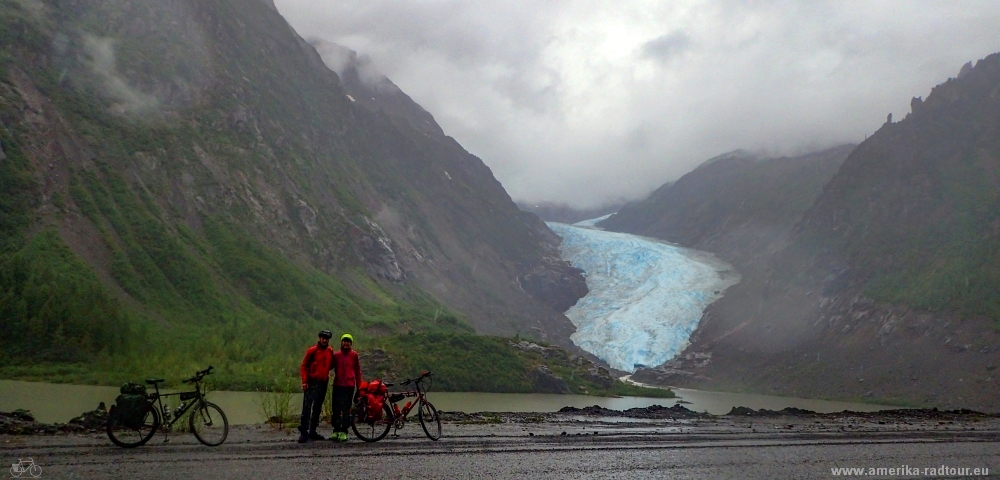 Halfway between Meziadin Junction and Stewart we pass the Bear Glacier. Only a few years ago, the glacier reached far into the lake, but due to global warming, this glacier is getting smaller and smaller.

With todays weather, the steep descent down to Stewart is quite a challenge. Shortly before Stewart the road leads along the banks of the Bear River and threatens to be flooded by the river. The last thing we need right now is a road closed due to flooding. Once in Stewart we cycle straight to our accomodation and try to get warm again. Marion keeps her cold feet in front of the stove while I sit on a chair and drink hot tea. It takes some time for us until we are ready to shower and go out to find a place to eat.