Stage 2017/18 [A061]

Tagish - Carcross (Tagish Road)

23 mi / 37 km

150 Hm (garmin edge 1000)
Cycling from Smithers, British Columbia to Whitehorse, Yukon  
Stage from Tagish to Carcross following Tagish Road.
One of the most epic cycling routes in the world.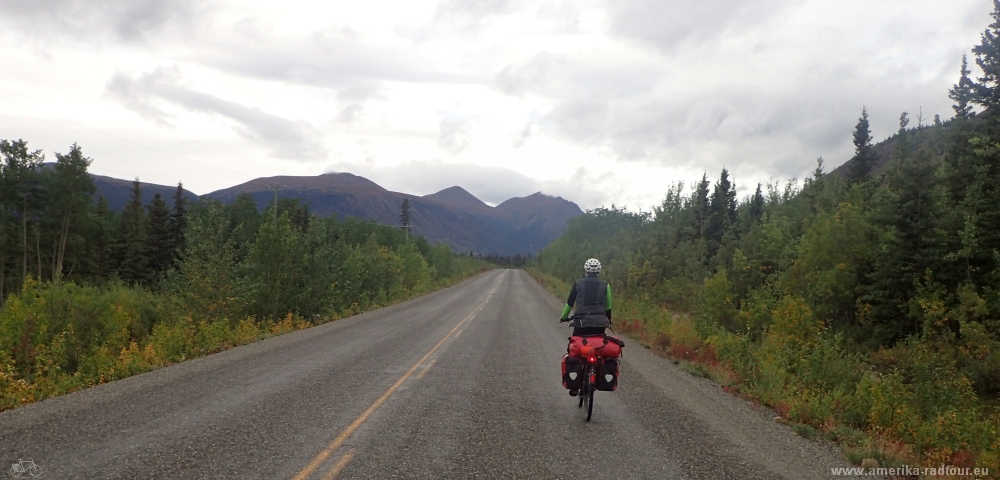 We continue cycling west on Tagish Road, Yukon Highway 8.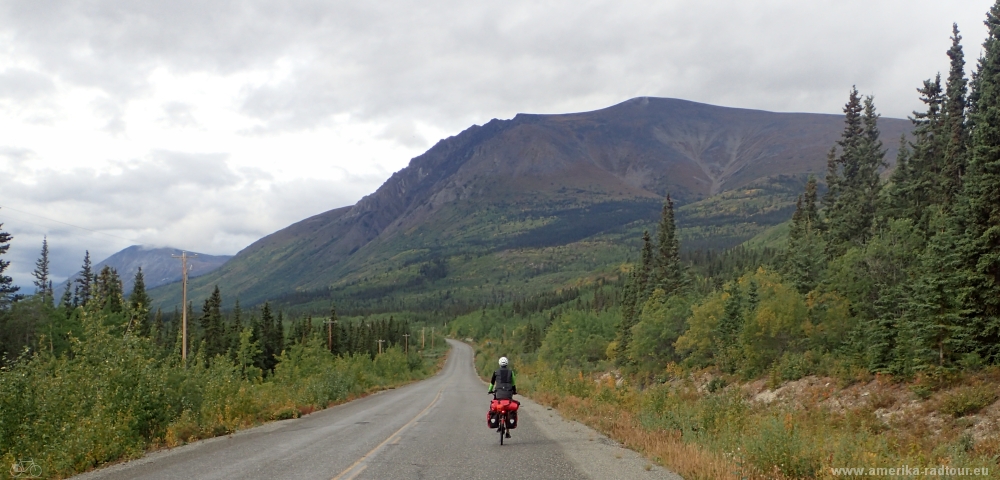 On the road the vastness of the Yukon can be experienced once again.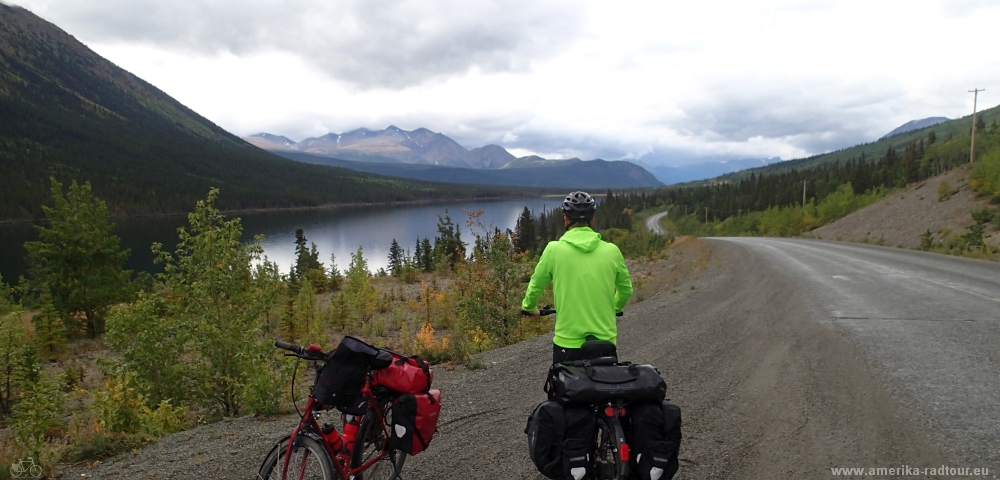 Photo stop at Craig Lake, on Nares Mountain in the background you can still see individual snow fields.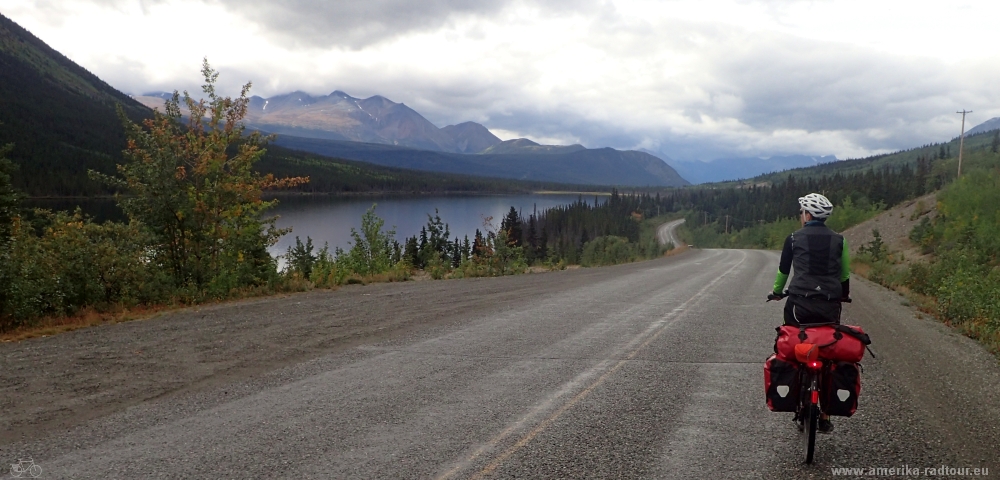 Now, close to the final destination Whitehorse, we no longer worry about the weather. I think we have reached a point where we know that things can't get any worse than what's behind you.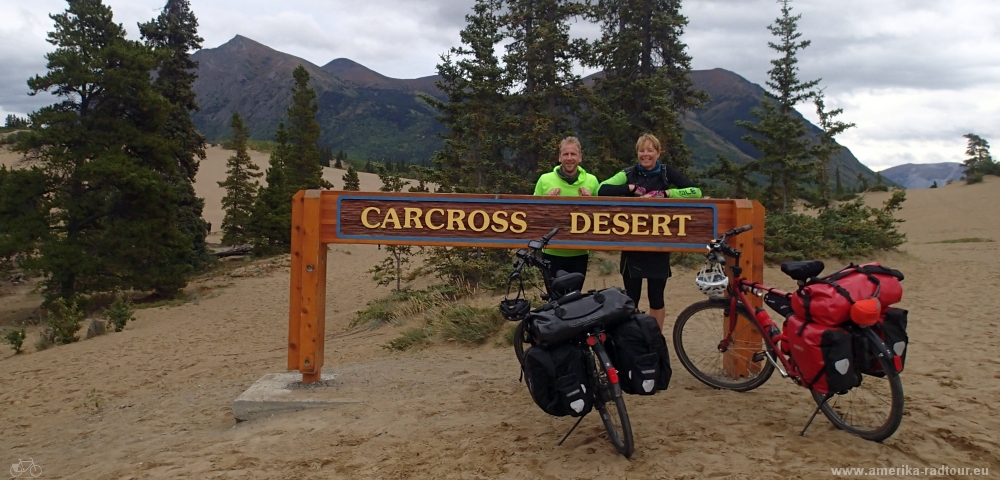 Shortly before Carcross we turn right and drive to the Carcross Desert. Carcross Desert is often referred to as the smallest desert in the world and that's exactly what it looks like. However, the bad weather today leaves no doubt: this one is not a desert in the climatic terms: this are just a few tons of sand lying around on an area of 2.6 square kilometers since the disappearance of a lake from the last ice age. The surrounding mountains shade the area from rain clouds, which explains the low rainfall.  

Carcross had its heyday in 1896 at the time of the great gold rush. With the end of the gold rush, Carcross was forgotten until a new boom began in 1942 with the construction of the Alaska Highway. This time also passed and Carcross was forgotten again. Today Carcross is a distribution point for cruise ship tourists who are brought here from Skagway either by bus or by train via the White Pass and then shipped back again to Skagway by train or bus. Oddly enough, our bicycles were the most popular photo motif for the cruise ship tourists.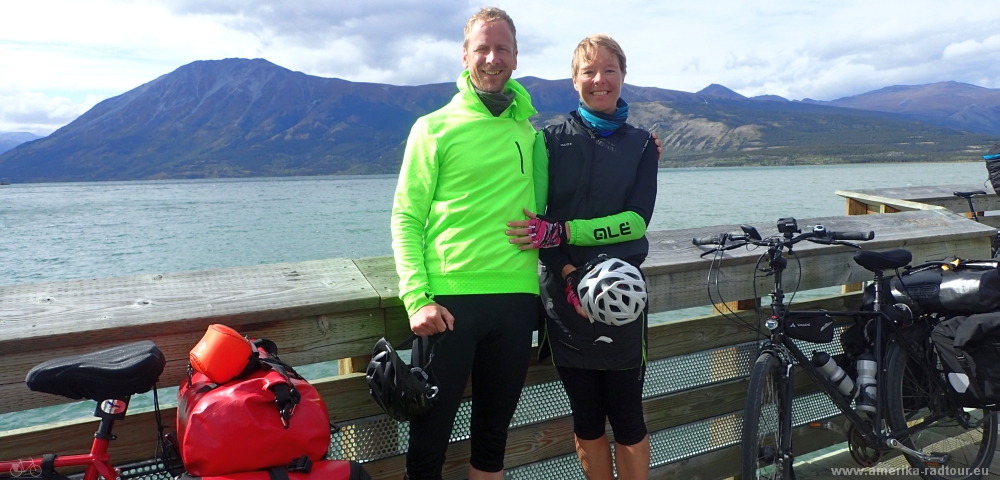 And: Carcross wasn't always called Carcross. Originally it was named Caribou Crossing. In 1901, well after the gold rush, the Anglican Bishop William Bompas moved his office from Forty Mile to here. Since there was a village called Caribou Crossing nearly anywhere in the north, the Bishop never got his mail, so the government changed name from "Caribou Crossing" to "Carcross" in 1904 because of the risk of confusion in correspondence, which the bishop complained about.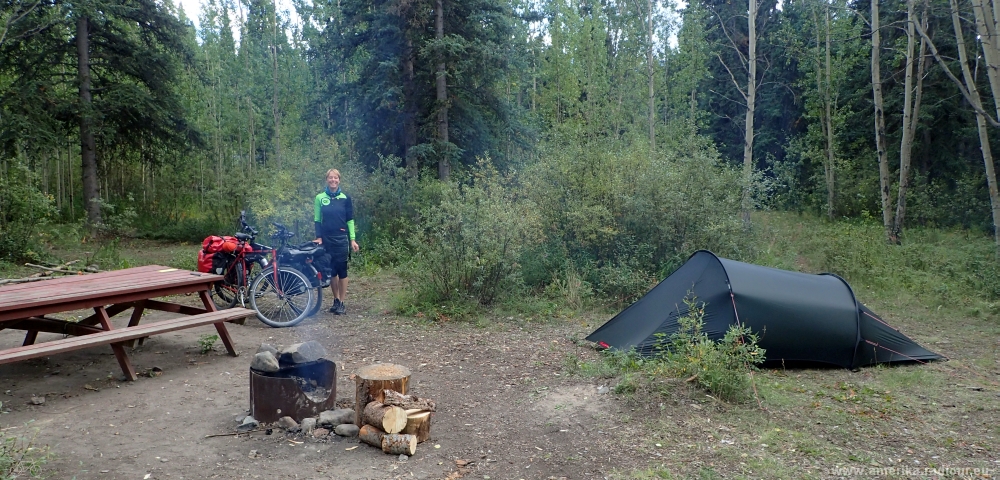 Cruise tourists do a lot on their visits, but there is two things they never do: staying overnight and having dinner. Therefore there is no hotel in Carcross and the dining options are between small to zero. Therefore, we stay at the Carcross Tagish First Nation's Carcross Campground.