Stage 2013/12 [A012]

Ophir - Gold Beach - Fort Dick - Crescent City

66 mi / 107 km

823 m (garmin etrex)
Cycling from Ophir to Crescent City. Pacific coast Vancouver - San Francisco on a bicycle
Cycling from Vancouver to San Francisco following the Pacific Coastline.  
Stage from Ophir to Crescent City following California´s Pacific Coastline southbound.
One of the most epic cycling tours of the world.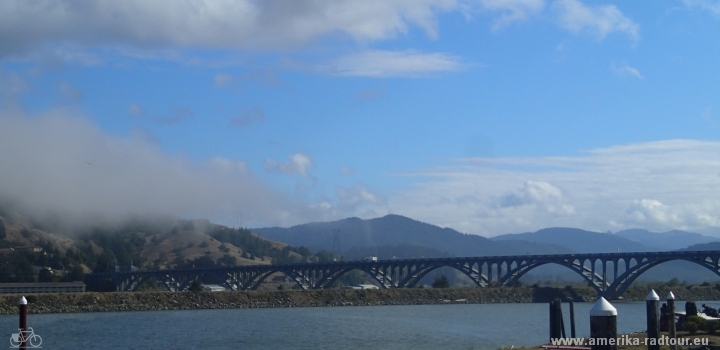 Today, the weather is peaceable. The rain is forgotten; instead there is blue sky and local fog. We cycle across the Paterson Bridge to Gold Beach to look for a breakfast stop. The bridge is an almost 600 m long arch bridge from steel concrete opened in 1932 and designed by Conde McCullough.

Today, our route leads us again directly along the sea.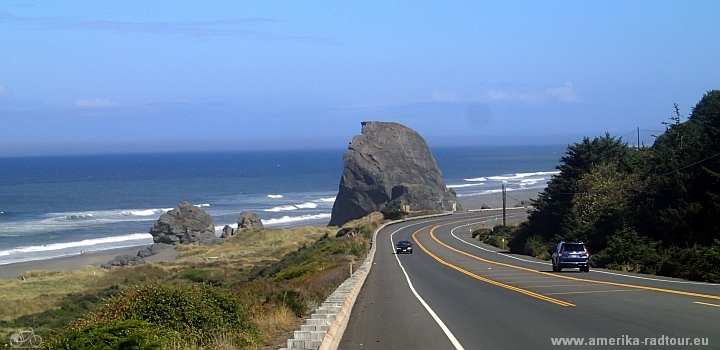 Just a few kilometers after our breakfast we have to overcome a rise of 200 meters in altitude with a gradient of up to 5 %.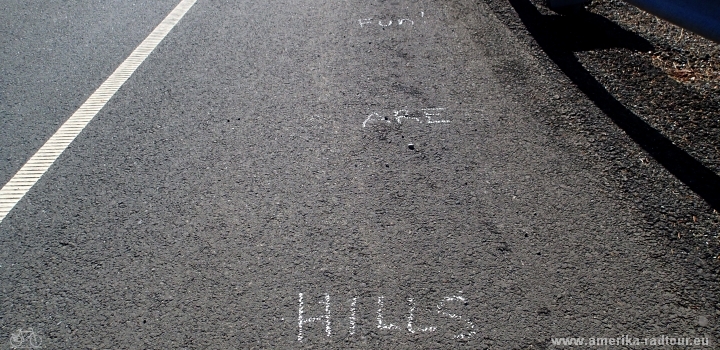 At the steepest place, someone has left some encouragement: Hills are Fun!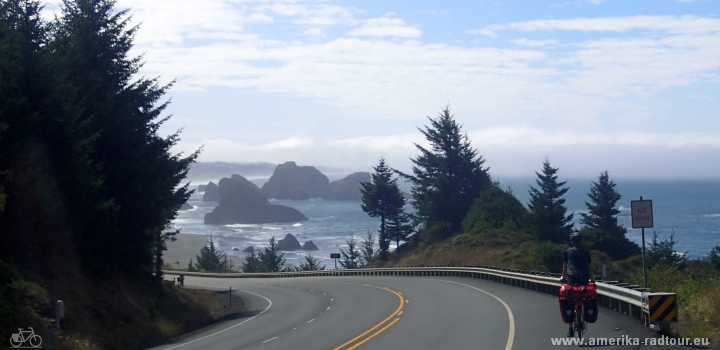 After the rise, there is the descent: Behind the last curve, there is a spectacular view of the rocky coast of Oregon.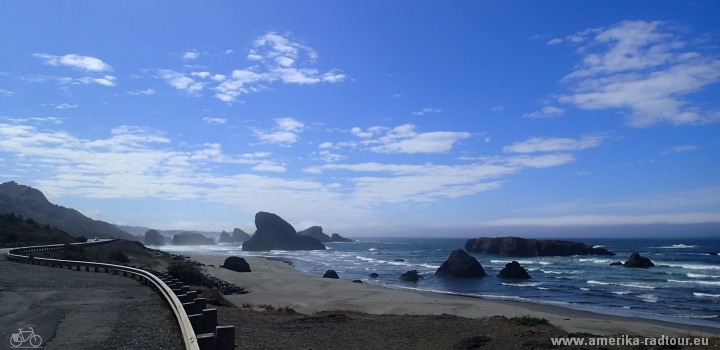 As we continue, Highway 101 snakes along the coast.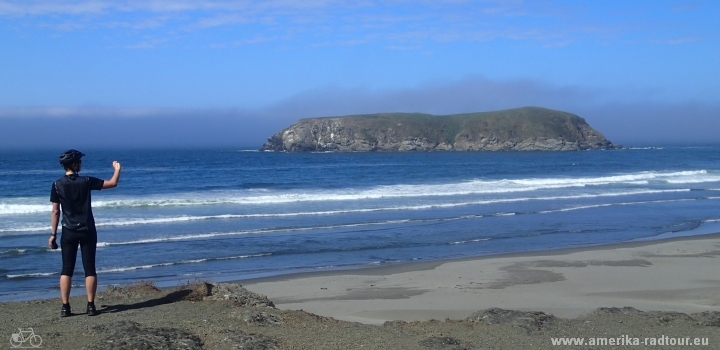 Photo stop: Hunters Cove with Hunters Island in the background.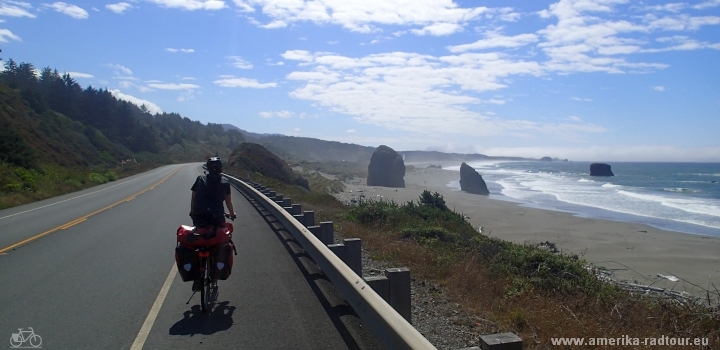 Today we are lucky with the weather: The coast has good weather, . . .

. . . while the fog banks got caught on the Pacific today. Better like this than the other way around.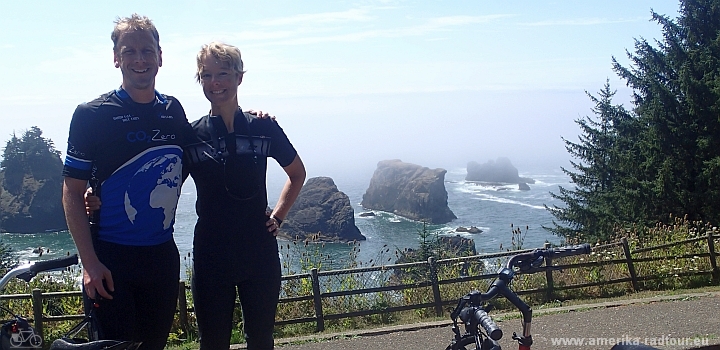 Between Pistol River and Brookings, the terrain remains hilly. The better the view of the rocky coast. Sometimes with fog, . . .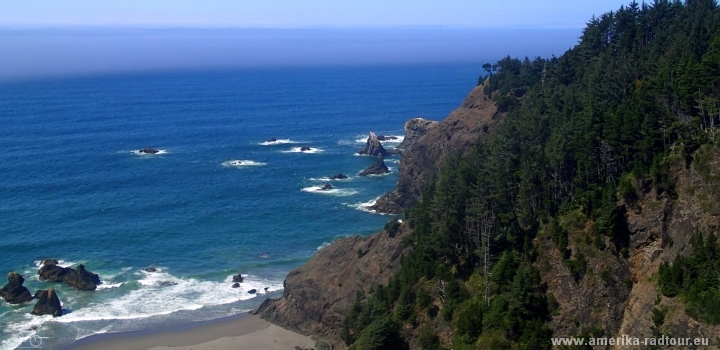 . . . sometimes without any fog in the background.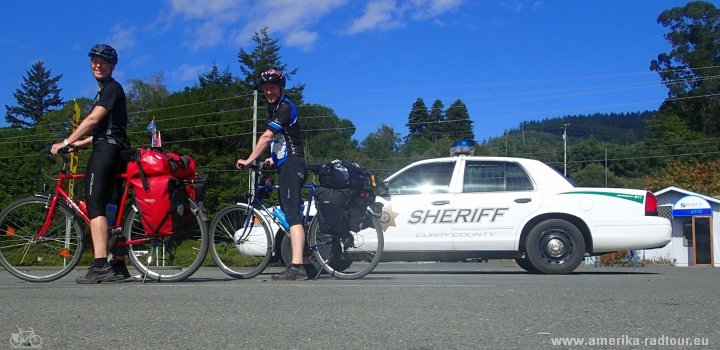 Group picture with sheriff.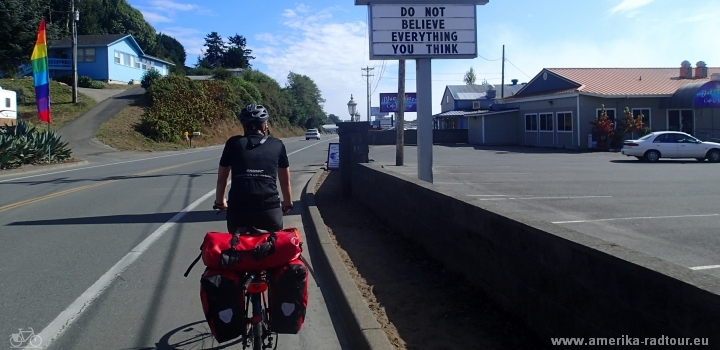 Well, I've done that for a longer time.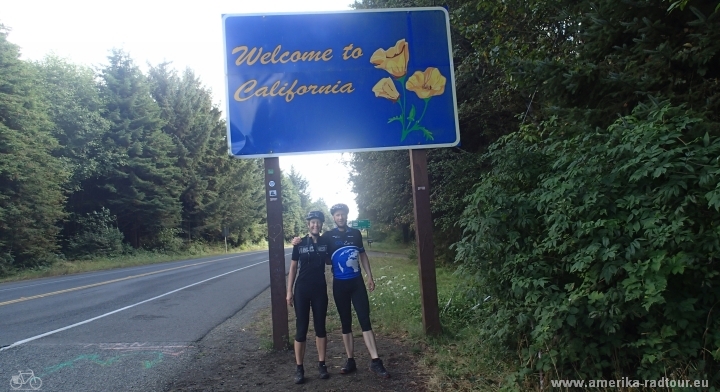 South of the Winchuck River, we enter California.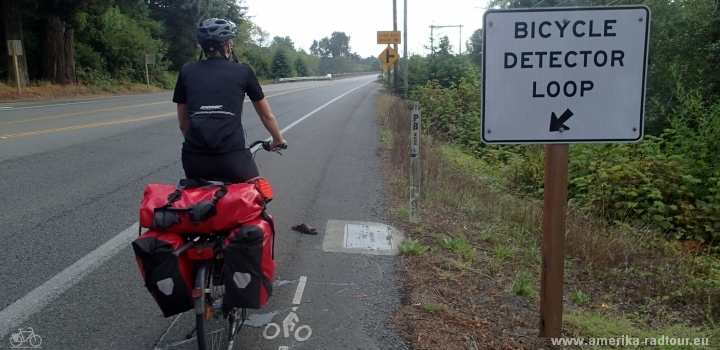 California surprises us with an advancement of the cyclist-button at bridges and tunnels, as we know it from Oregon: A detector automatically recognizes the crossing of a bike and turns on a warning lamp on the (rather small) bridge.