Stage 2019/01 [A063]

Whitehorse -  Foxlake (Klondike Highway, Alaska Highway)

41 mi / 66 km

600 Hm (garmin edge 1000)
Cycling Whitehorse, Yukon to Anchorage, Alaska.
Stage from Whitehorse to Fox Lake following Alaska Highway and Klondike Highway.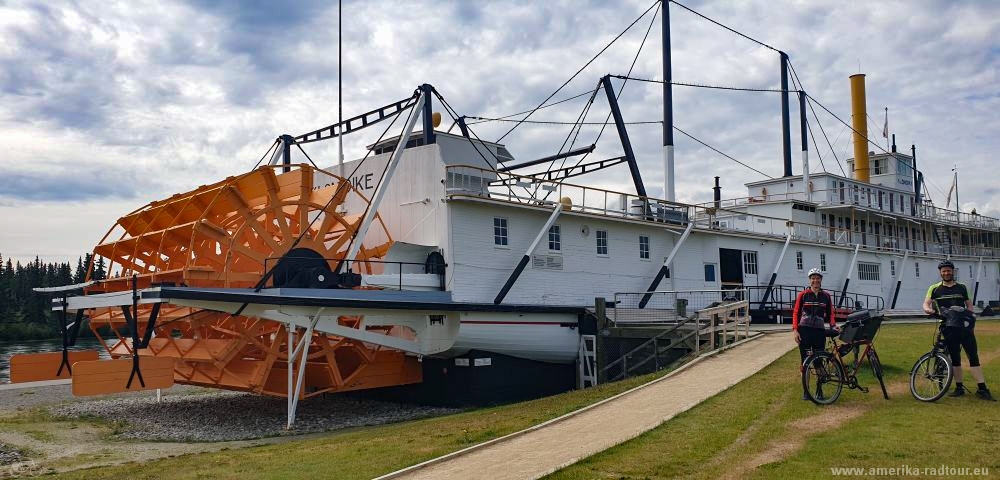 For the start photo in Whitehorse, we set up in front of the Klondike steamship. The ship was build in 1937 as a copy of the steamer Klondike I (which was lost in action a few month age) and served on the Yukon River between Whitehorse and Dawson City until 1950. With the construction of the road up to Dawson City, shipping became uneconomical and subsequently ceased. In 1966 the ship found its final home at the banks of the Yukon Rivers and serves as a museum ship. In 2017 we made our arrival photo just here. today it will serve as a starting photo.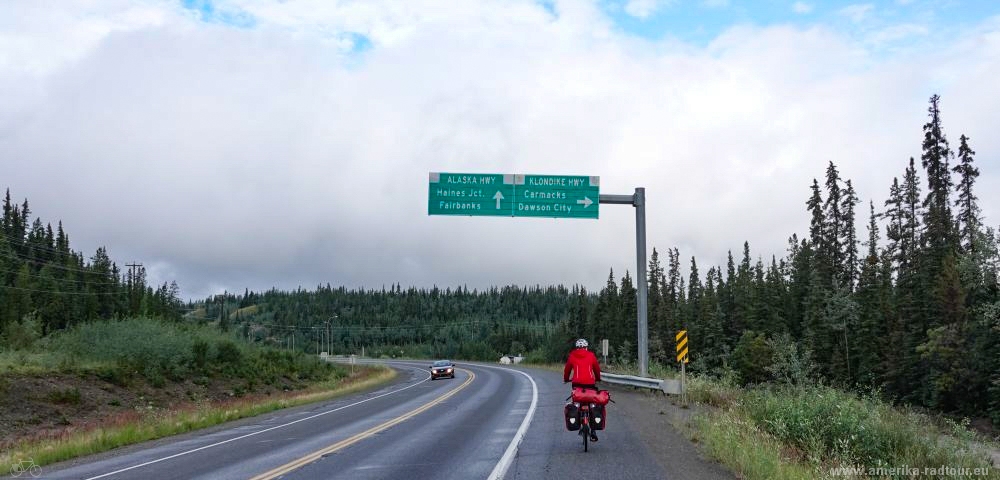 10 km / 6 min north of Whitehorse we come to the intersection where we have to make our decision: Either we stay on the Alaska Highway and cycle to Alaska without much altitude gain via Haines Junction, or we turn right onto the Klondike Highway to Dawson City and continue over the Top of The World Highway through the mountains to Alaska. Not quite as relaxed, but more demanding, more challenging and hopefully more rewarding. Making a decision is mot that hard: for us the route through the mountains is the only option.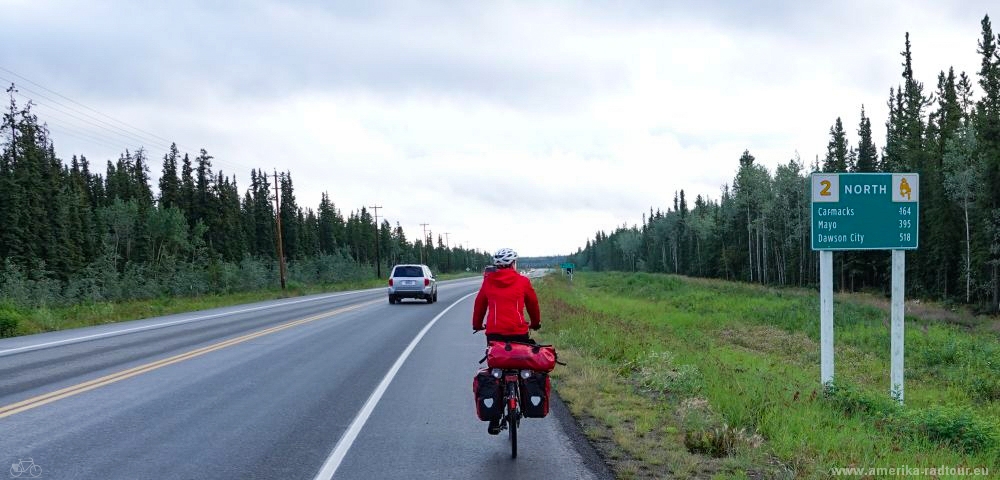 So we find ourselves on Highway 2, the Klondike Highway heading north. Here in Canada distances are given in kilometers, ND still 518 Km / 322 mi to go to Dawson City.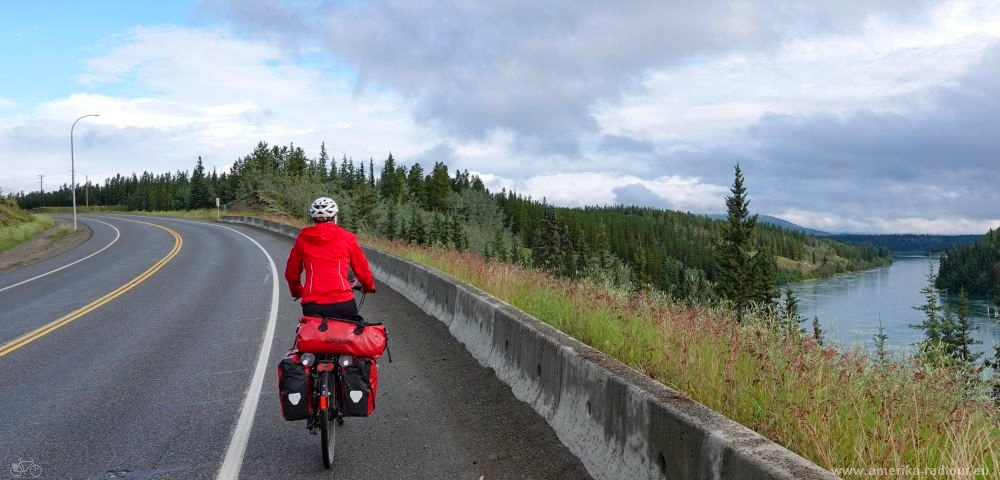 The Klondike Highway is noticeably less busy than the Alaska Highway. Heavy traffic takes the Alaska Highway, the majority of the vehicles on Klondike Highway north of Whitehorse are driven by tourists and this also counts for bicycles.  

Canada is huge, the streets follow a straight line through the vastness of the country. But don´t get fooled by the calm sourroundings here: the area here is known for fishing, camping and occasional UFO sightings. In the spring of 2000, about 30 people independently reported a glowing flying object, so we better keep your eyes open.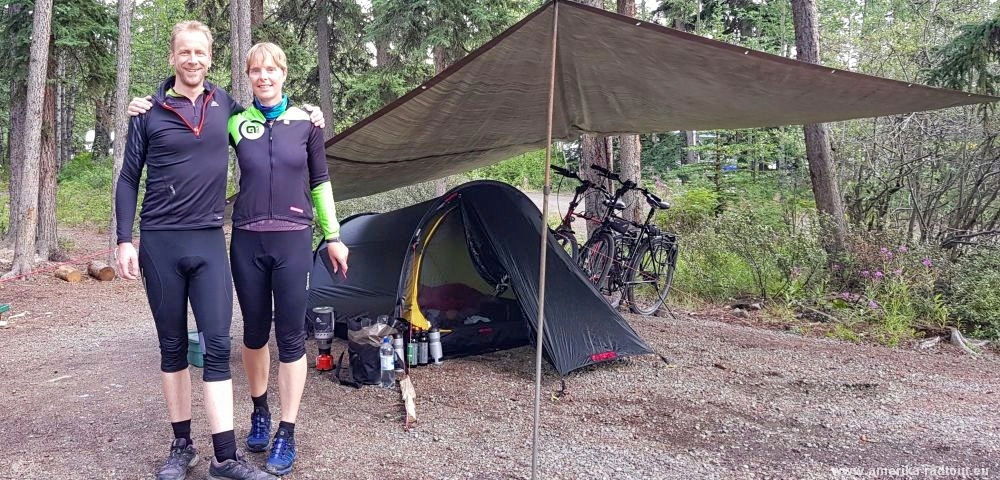 Today's final destination is the campsite on Fox Lake. In the late afternoon dark clouds suddenly emerge form the lake and threaten to approach us. Our neighbors from the campground next door do not hesitate to install a tarp for rain protection above our tent. We are very thankfull, because we don't want to get everything soaked already on the first day.