Stage 2019/02 [A064]

Foxlake - Braeburn Lodge -Carmacks (Klondike Highway)

67 mi / 108 km

500 Hm (garmin edge 1000)
Cycling Whitehorse, Yukon to Anchorage, Alaska.
Stage Fox Lake -Braeburn Lodge - Carmacks following Klondike Highway northbound.

15 mi / 24km north of Fox Lake we pass the Braeburn Lodge, just in time for a second breakfast. In February the lodge is an important checkpoint for the Yukon Quest sled dog race, in summer the road house is known for its huge cinnamon rolls. 

The Yukon is rich in weird stories: UFO sightings are said to have occurred repeatedly on the Klondike Highway around Fox Lake a few years ago.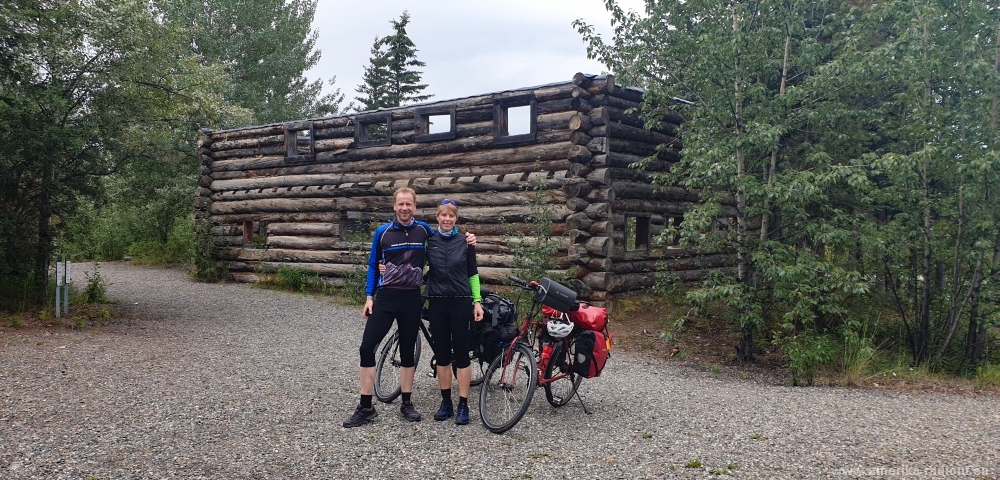 On the way we pass the remains of the Montague Roadhouse, built in 1915, which is in surprisingly good condition this day. This is surprising because several previous buildings burned down between 1900 and 1915, while this one seems to last for ever. The purpose of the roadhouses was to accommodate travelers on their route between Whitehorse and Dawson City. Tough travel in the old day, nice cycling trip today.

The Klondike Highway is noticeably less busy than the Alaska Highway. Heavy traffic remains on the Alaska Highway, the majority of the vehicles here are driven by tourists and this also counts for bicycles.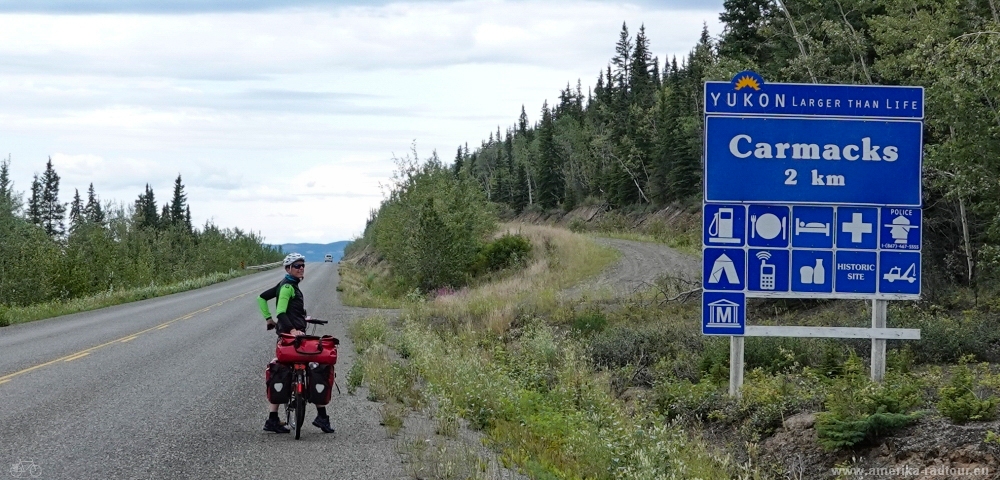 Today's destination is Carmacks. Noteworthy: the sign 2 km before Carmacks, on which the amenities that the place has to offer are announced. In addition to symbol for petrol station, hotel and restaurant, there is an symbol for cell phone reception within the town. This is not a matter of course out here in the Yukon, cell phone reception is rare. The town is named after George Carmack, who found and exploited a coal mine in the vicinity of today's city. Carmack later found gold in Bonanza Creek, south of Dawson City, which ultimately made him a rich man. However, rumors say that the gold mine was discovered not by him but by his wife Kate.   

Entrance to Carmacks. We look forward to the hotel, the restaurant and the cell phone reception.