Stage 2019/09 [A071]

Chicken - West Fork Campground (Taylor Highway)

17 mi / 28 km

500 Hm (garmin edge 1000)
Cycling Whitehorse, Yukon to Anchorage, Alaska via Dawson City.
Stage from Chicken following the Taylor Highway to West Fork Campground.
One of the most epic cycling routes of the world.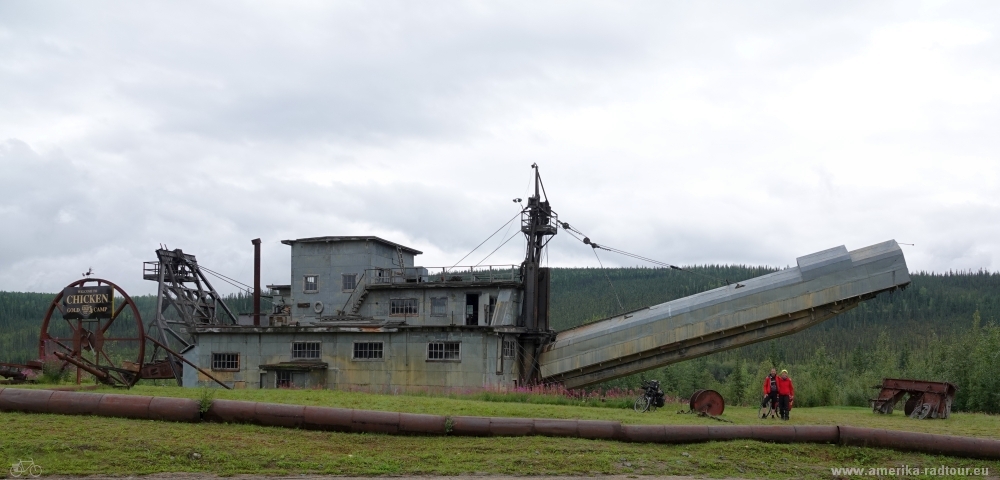 Chicken is home to Dredge No4, an old gold dredge from the days when mining for gold was industrialized. The device was built in California and shipped in parts to Alaska, where it began operating in Pedro Creek north of Fairbanks in 1938. In 1958 the excavator was transported to Chicken Creek, converted from a steam engine to a diesel engine and was in use there until 1967. About 2500 cubic yards / 2000 cubic meters of soil were washed in Chicken every day. In the eight years the excavator was operating in Chicken Creek alone, 55,000 ounces of gold were mined, which is, to put it less precisely, about 1.6 tons of gold.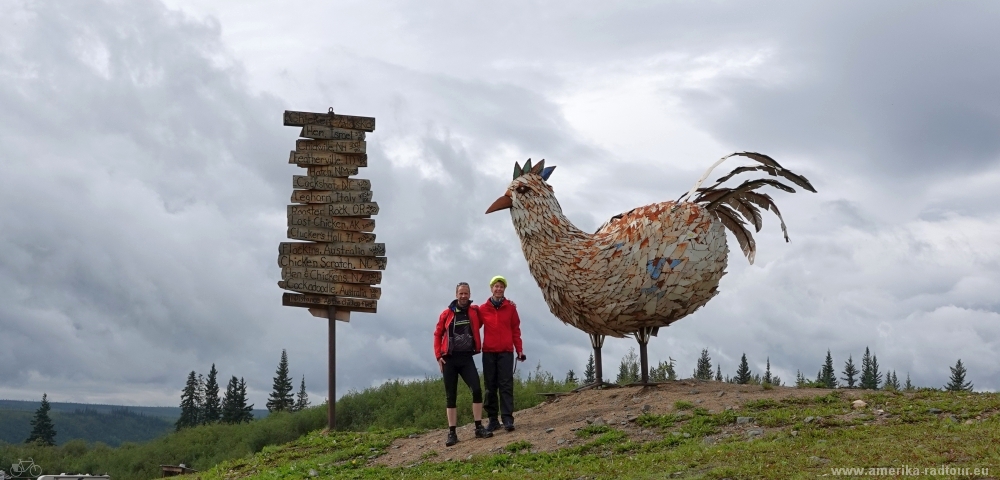 Before we leave Chicken, we take a group photo with the oversized chicken that stands around here. Chicken was founded in the late 19th century by gold prospectors who settled in the region. At the height of the gold rush, over 400 people lived here. From a certain size, a settlement needs a name and it was quickly agreed that the place should be called "Ptarmigan", the name of an endemic chicken. But it was not possible to agree on how to write "Ptarmigan" correctly, because suddenly everyone thought a different spelling was correct. In order not to be embarrassed because of a stupid spelling mistake, they finally switched to the word "Chicken". That is easier. And let's be honest: the difference between the endemic ptarmigan and an ordinary domestic chicken is not that big. Chicken has 7 to 25 inhabitants today, depending on the season.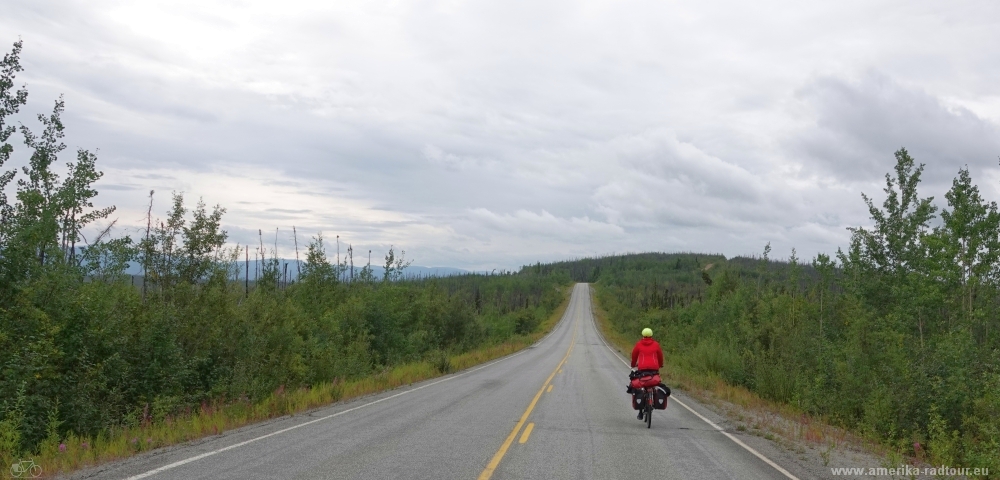 We leave Chicken and follow the Taylor Highway south. Long sections of the road are straight ahead.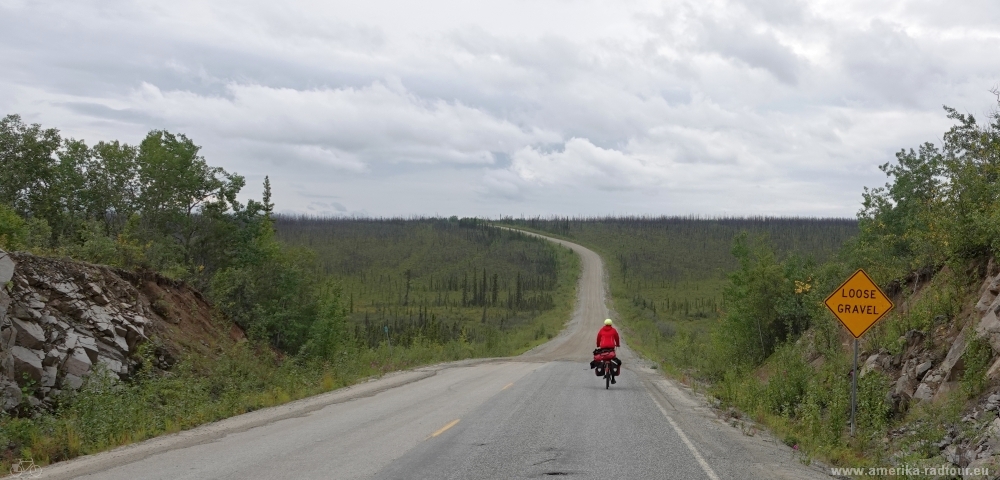 Like Top ot the World Highway, Taylor Highway is also not really what you expect an American highway to be. Sometimes it is just a track, same sections are not paved. And the condition of these unpaved sections varies between bad and very bad.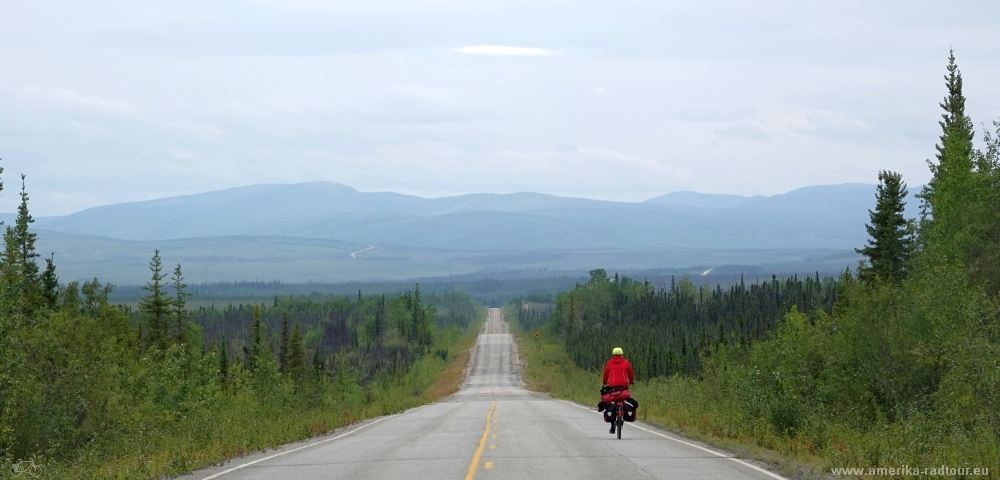 As soon as we have solid asphalt under our bikes again, there is hope that the worst part is now behind us.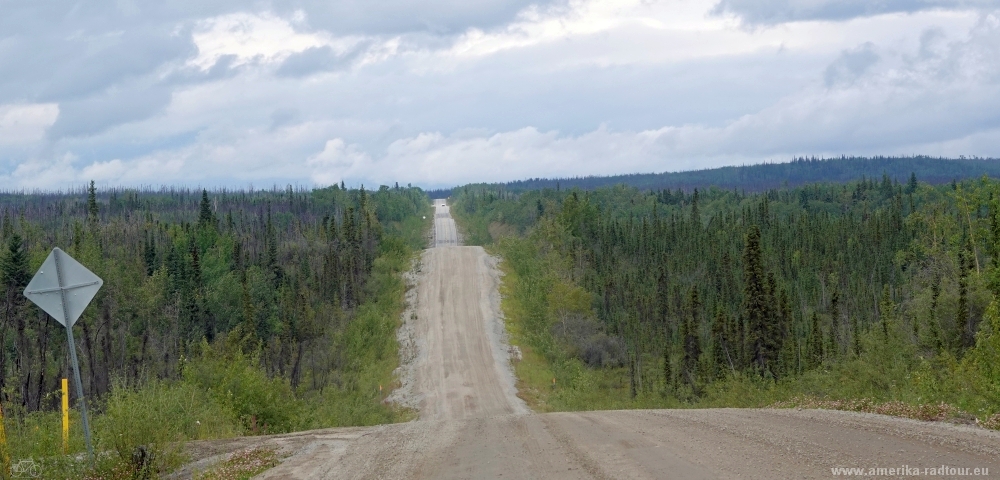 Hope is usually short-lived, as the asphalt ends a little later and the gravel road begins again. If it rains here for a long time, the road could become a little bit uncomfortable.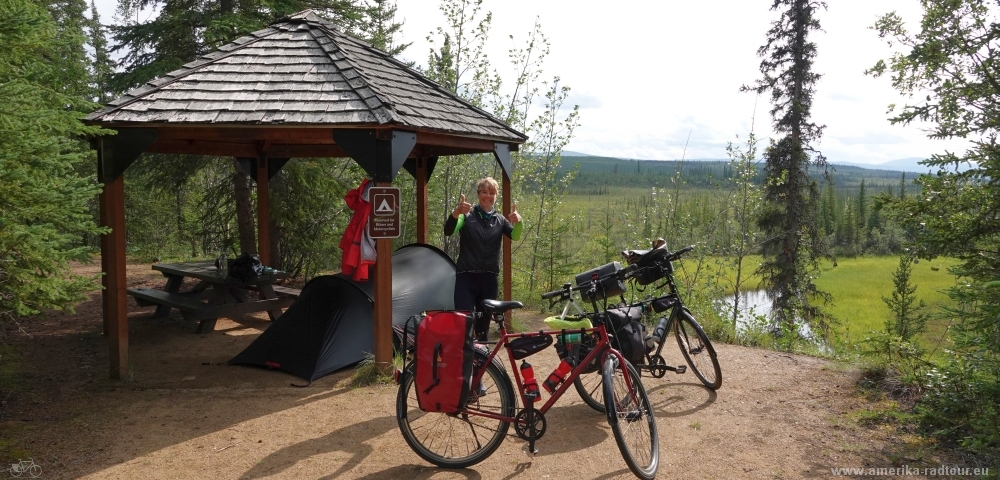 We spend the night at the West Fork Campground, which has a wooden roof reserved for cyclists. The place is exactly as it is described on the Internet: very nicely located, quiet and equipped with a host who likes to drop by in the evening to offer his help and tell something about the region.