Stage 2015/21 [A043]

Squamish - Horseshoe Bay - Lions Gate Bridge - Vancouver (Highway 99 - Sea to Sky Highway)

⇨ 51 mi / 82 km
⇧ 1026 m (garmin edge 1000)
Cycling from Smithers, British Columbia to Vancouver.  
Stage from Squamish to Vancouver following Sea to Sky Highway.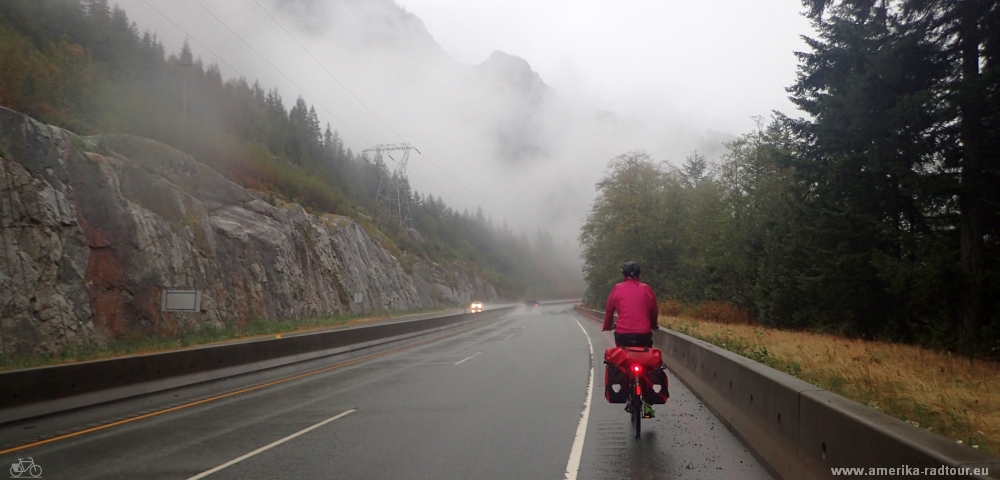 Unfortunately today's weather cannot maintain the low level of yesterday's weather. Not only the air is cooler than yesterday, but also the rain has become colder.

On the Sea-to-Sky-Highway we are temporarily exposed to the winds coming from the sea. For the Howe Sound we have no eyes today, we focused on steering the bike as good straight ahead as the storm allows.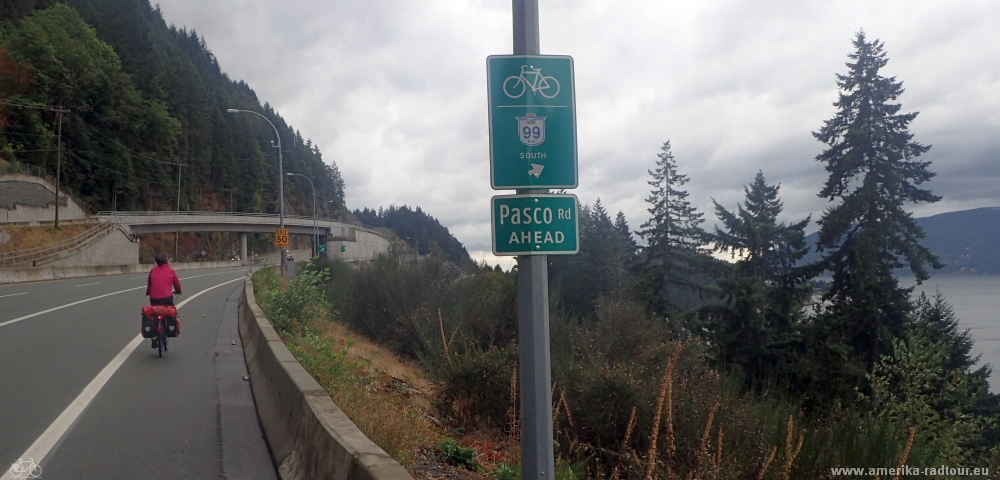 North of Horseshoe Bay we leave the highway, because we assess the weather situation on the highway as much too dangerous. So we go for plan B: we continue on secondary roads in the direction of Vancouver.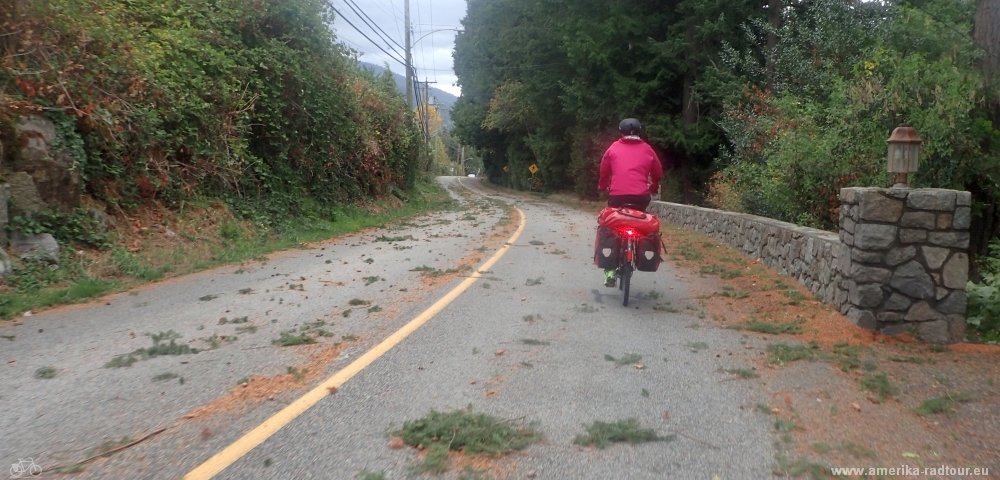 But plan B turns out to be even worse - I guess that´s why we call it plan B. On the side roads, we are exposed to the same storm like on the highway. On the sideroads is no traffic, but branches cut off from the trees fly around our ears. Not nice either.

In West Vancouver we make a short photostop. There is no time for more, as we want to get behind the ascent to the Lions Gate Bridge as quickly as possible: Suspension bridges have an unpleasant tendency of being closed in storm.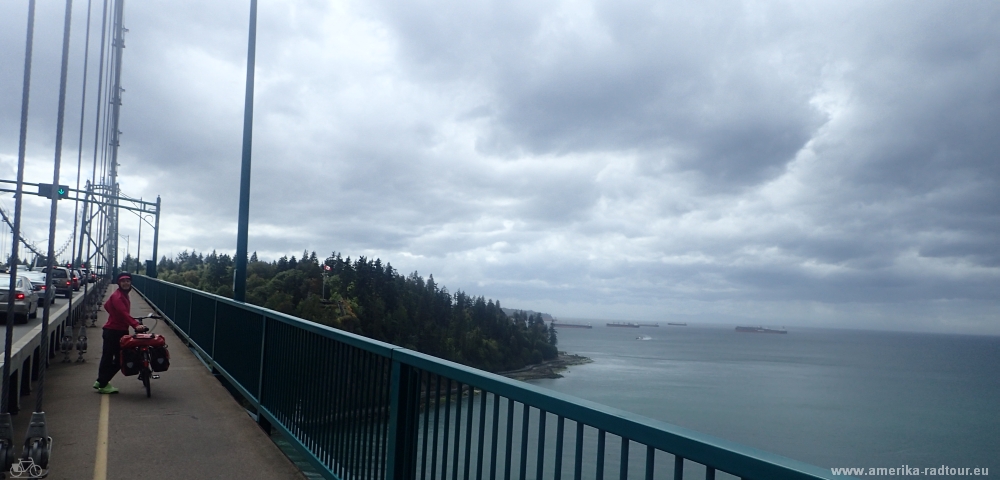 Fotostop on the Lions Gate Bridge. The pavement of the 1500m long bridge is 111m above sea level. The wind up here is once again much more unpleasant than it is at sea level. Certainly not the best place to be today. But not the worst place to be. As we are fight our way across the bridge, due to the storm some of the trees in Vancouver zoo were falling. The trees teared down some fences of various animal enclosures and gave them the oportunity to break out. Among them an adult grizzly. In this szenario I definely prefer to be on the stormy bridge.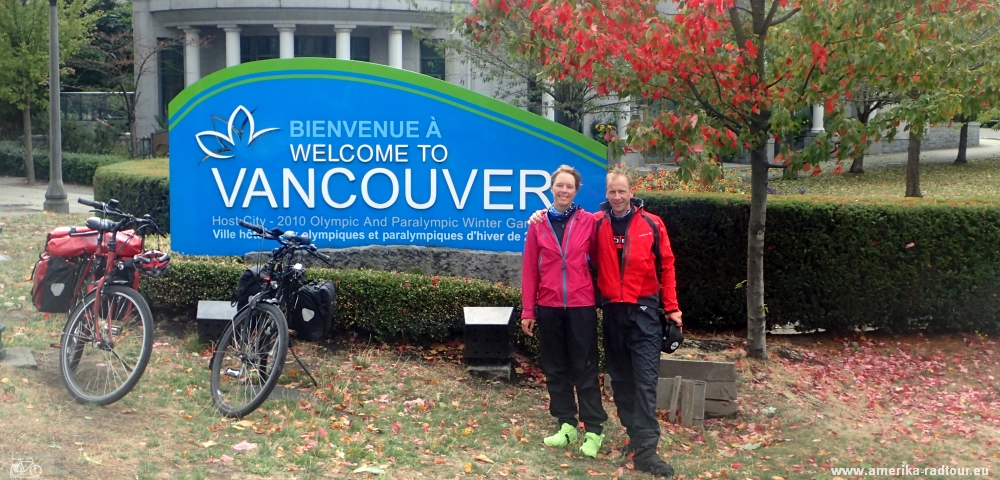 Since the Stanley Park is already evacuated, only the roadside remains for the arrival photo.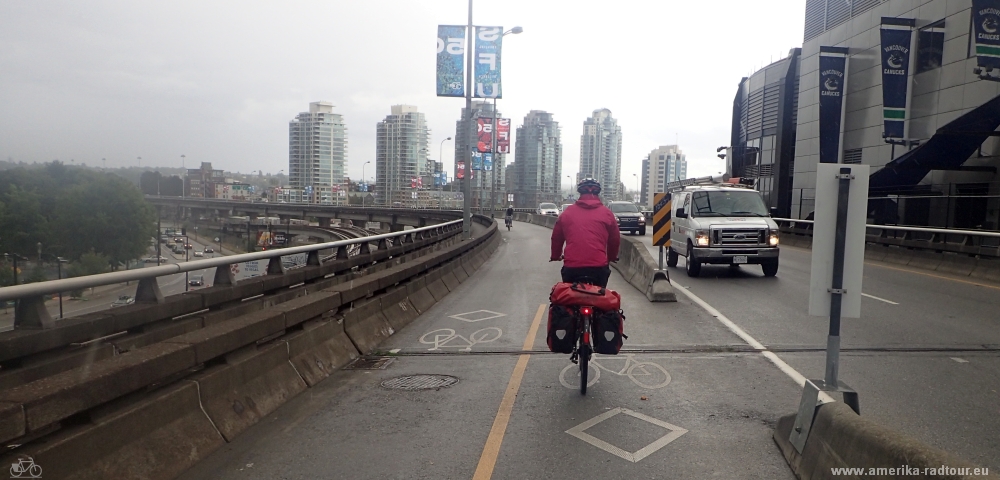 With over 170 km of bicycle lanes, Vancouver is a very bicycle-friendly city. Here we find separate cycle paths all over the town and signposting for cyclists anywhere. We cross the city and stay at our hotel near the airport. Tomorrow we have a day to visit the city, then we fly back to Frankfurt with Lufthansa.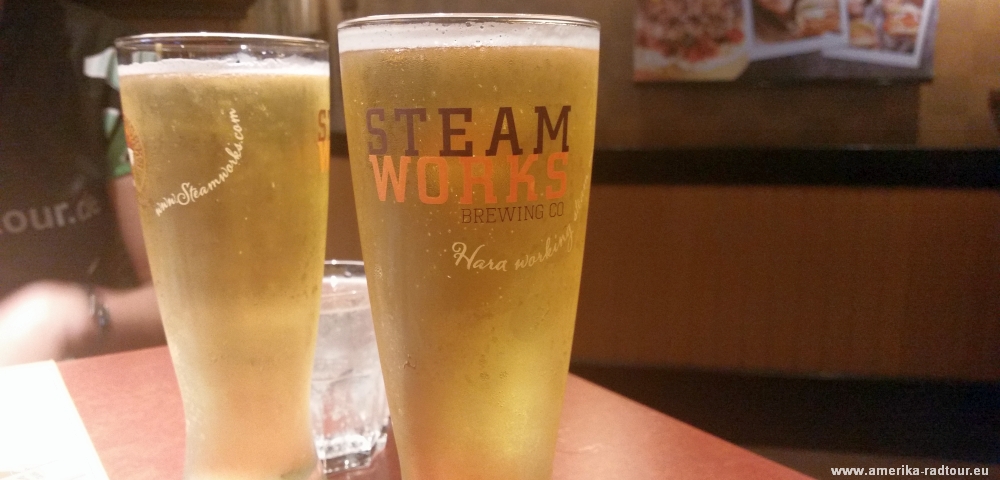 Beer of the day: Steam Work by the Steam Work Brewing Company in Vancouver. Privately owned since 1995.