Stage 2015/13 [A035]

Rogers - Rogers Pass - Revelstoke (Trans Canada Highway)

⇨ 59 mi / 95 km
⇧ 746 m (garmin edge 1000)
Cycling from Smithers, British Columbia to Vancouver.  
Stage from Rogers to Revelstoke following Trans Canada Highway.

In cold and rainy weather, we go for Rogers Pass today. The pass is named after its discoverer, the surveying engineer Albert B. Rogers. The railway company Canadian Pacific Railway had commissioned Rogers in 1870 to find a suitable pass to cross the Rockys. In return, he was assured of $ 5000 and the designation in Rogers Pass. However, at first he did not cash the check but framed it and hung it on the wall, since the fame was more important to him than the money. Later, when the railway company put an expensive watch on top of his sallary, he cashed the check and took the money. So much for idealism.

The Rogers Pass is known for its long, snowy winters. On average, 10 m of snow falls every winter season. In the narrow valley, the huge amounts of snow regularly lead to avalanches. In order to keep the Trans-Canada Highway passable all year round, the Canadian army is triggering controlled avalanches in the winter months by shooting at it with a 105 mm howitzers.

To protect the highway against avalanches, there are several avalanche galleries. In some of them the curbs are damn small. Even more unpleasant is however the noise of the pick-up cars, with which many people here are driving. Since we are traveling westbound we cycle on the hill-side of the galleries. Cycling eastbound, the passage might be more pleasant because of the light shining through the gallery. 

In the visitor center there is a small exhibition on the history of the pass, the highway and the railway construction. There are no catering facilities.

At the top of the pass we stop at the Rogers Pass Memorial. With this section over the Rogers Pass, the Trans-Canada Highway was completed in 1962.

On the westside of the pass the weather is not any better than on the east side. On Rogers Pass the temperatures did sink to 5 °C / 41°F, meanwhile we are glad that it doesn´t start snowing today.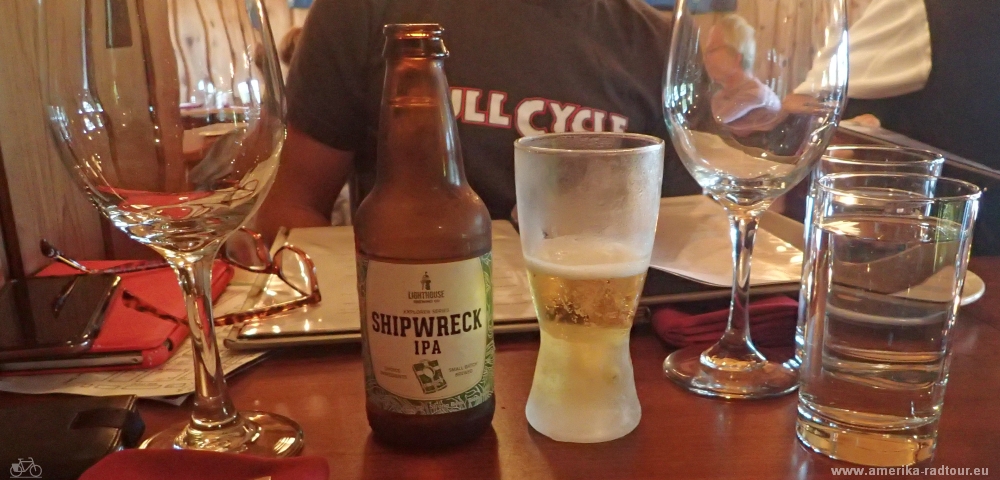 Beer of the day: Shipwreck brewed by the Lighthouse Brewery. Obviously, the ability to invent and innovate is limited to naming.