Stage 2015/02 [A024]

Houston - Topley - Burns Lake (Yellowhead Highway)

⇨ 50 mi / 80 km

⇧ 621 m (garmin edge 1000)
Cycling from Smithers, British Columbia via Jasper to Vancouver.  
Stage from Houston to Burns Lake following Yellowhead Highway.
 cycling Yellowhaed Highway eastbound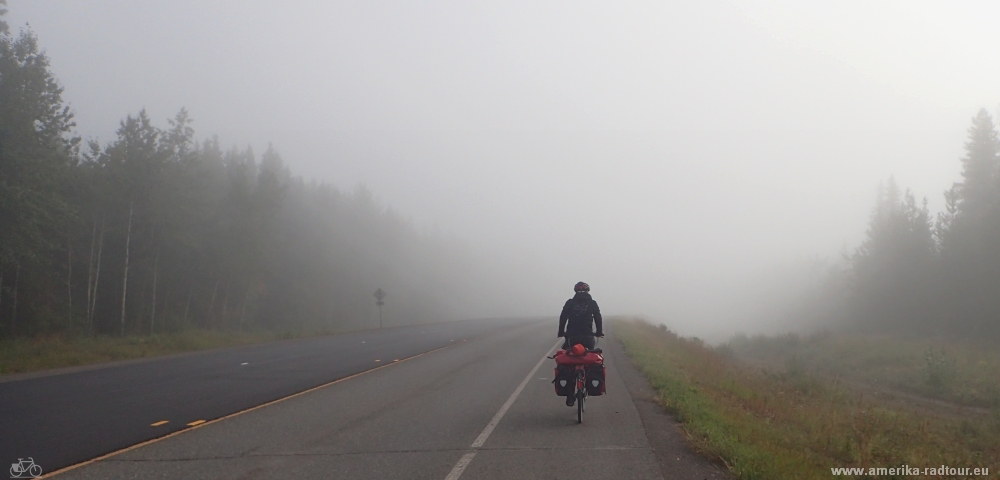 In Houston you can find three Motels, one Seveneleven, one petrol station und next to it one of these american diners, where you can have a good breakfast in the early morning. On a several weeks long familiy holiday you may have a hard time but for us the infrastructure is absolutely sufficient. Only the weather doesn´t look that appealing to us. With temperatures almost to the freezing point Canada does not look exactly the way I remember from these blue-skied picture postcards. But fortunately the day starts with  an elevation gain of 50m providing a nice warm up.

After a while the weather improves. But like yesterday there is not much more to see than forrest and road.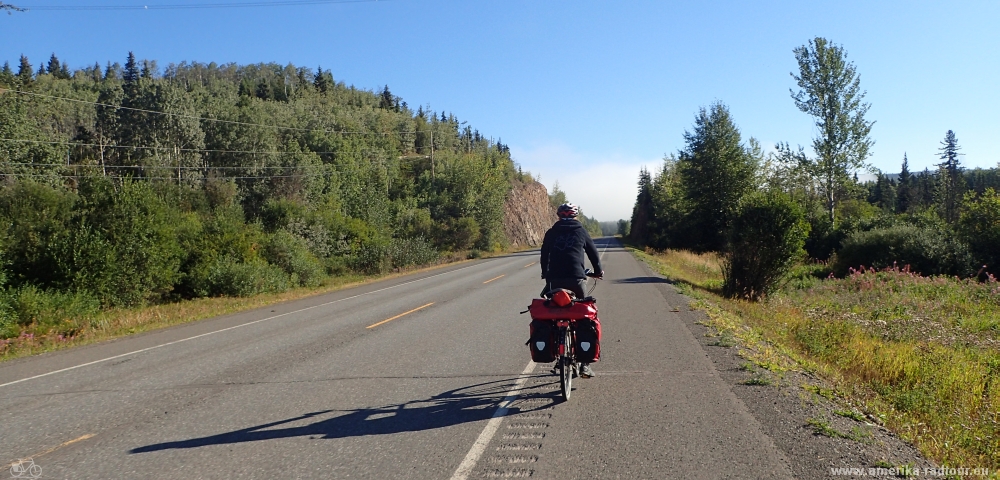 On Highway 16, the Yellowhead Highway, Canada looks the same for miles. There are long distances between the cities without any inhabitants, making this highway a lonely place.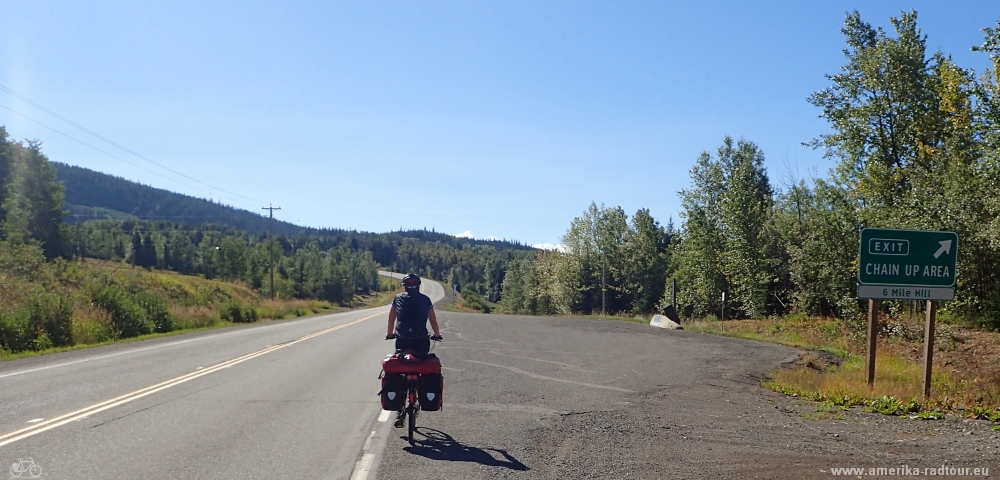 We realy enjoy the little hills we cross every now and then since they are a nice change for us. Hills with a gradient above 5% are announced by signs indicating a chain up area where trucks a supposed to put chain on their wheels when the road is covered with snow. This is mandatory here. A big difference to Germany, where one truck equipped with summer tires blocks the highway for hours. 

On top of the hills there are signs warning the traffic heading downwards of the steep grades ahead.  From the viepoint af a cyclist these signs would be nice at the beginning of the hill to get an impression of the upcomming elevation gain. All you need to do is move the writing "you are here" from the upper right side of the sign to the lower left side. But what makes me wonder about that sign ist the fact that the truck is moving from the right to the left. Isn´t that unusual?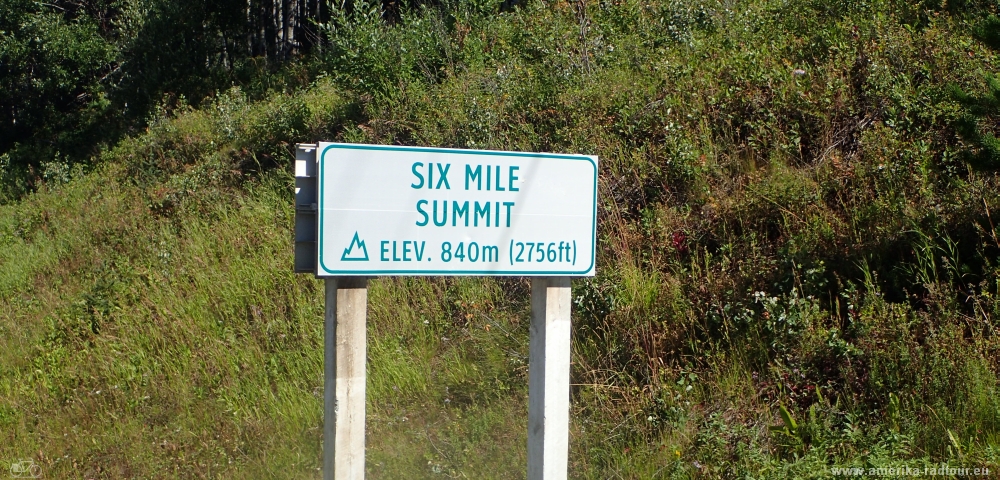 On top of the hills there is always a sign indicating that you made it to the summit.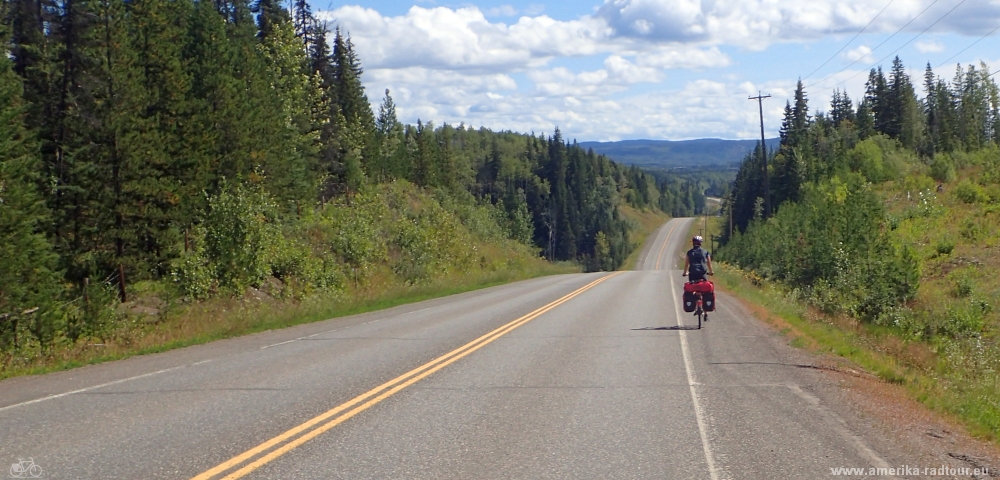 Eastbound on Highway 16 to Burns Lake.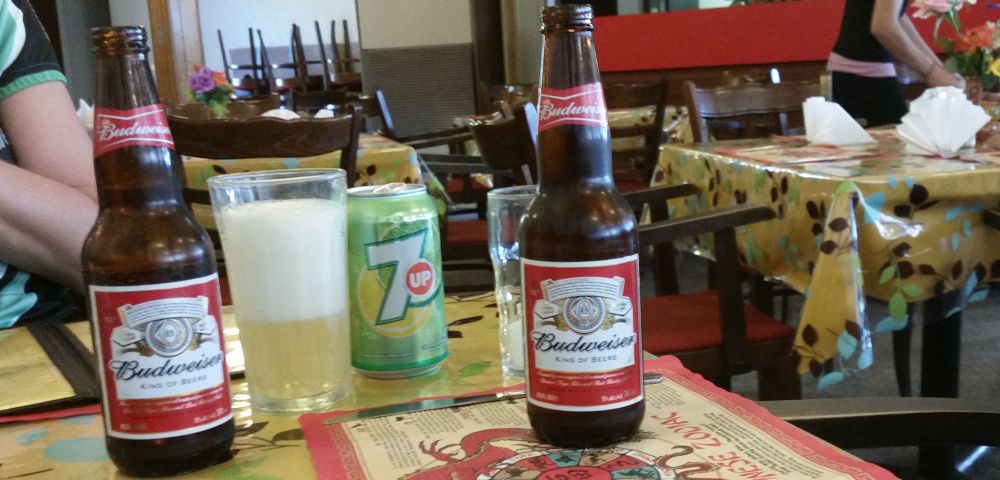 Beer of the day: Budweiser. A not very imaginative choice, but the only one I can get tonight. For ages there is a big dispute for the trademark name "Budweiser". In North America the trademark belongs to Anheuser-Bush, while in Europe only the czech brewery Budvar is allowed to sell beer labeled "Budweiser". Since 1907 the two companies are sueing each other in a number of countries. I guess generations of lawyers made a good living representing them in court and generations of lawyers will make a good living representing them in court.