Stage 2017/14 [A057]

Nugget City - Rancheria (Alaska Highway 1)

⇨ 60 mi / 96 km

⇧ 890 Hm (garmin edge 1000)
Cycling from Smithers, British Columbia to Whitehorse, Yukon.
Stage from Nugget City to Rancheria following the Alaska Highway northbound.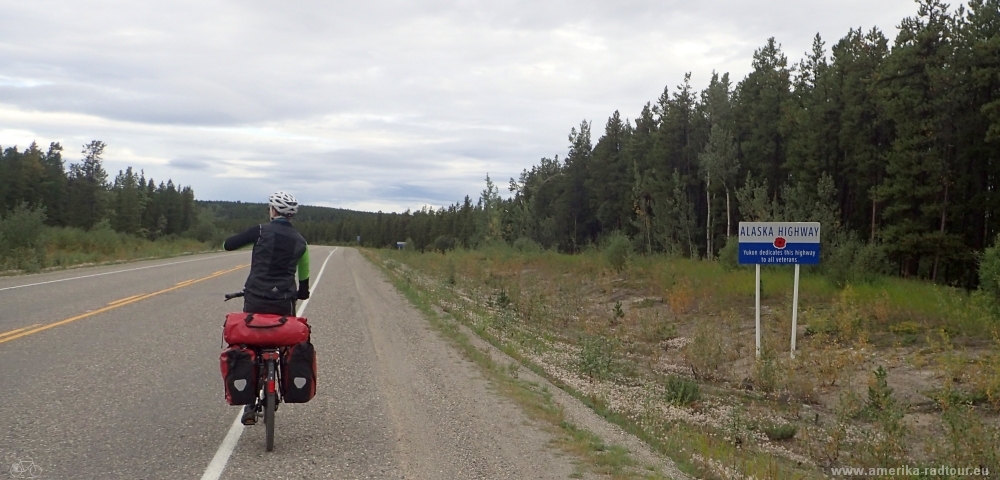 From today we follow the Alaska Highway. Since 2012, the Yukon portion of the Alaska Highway is dedicated to all war veterans of the country.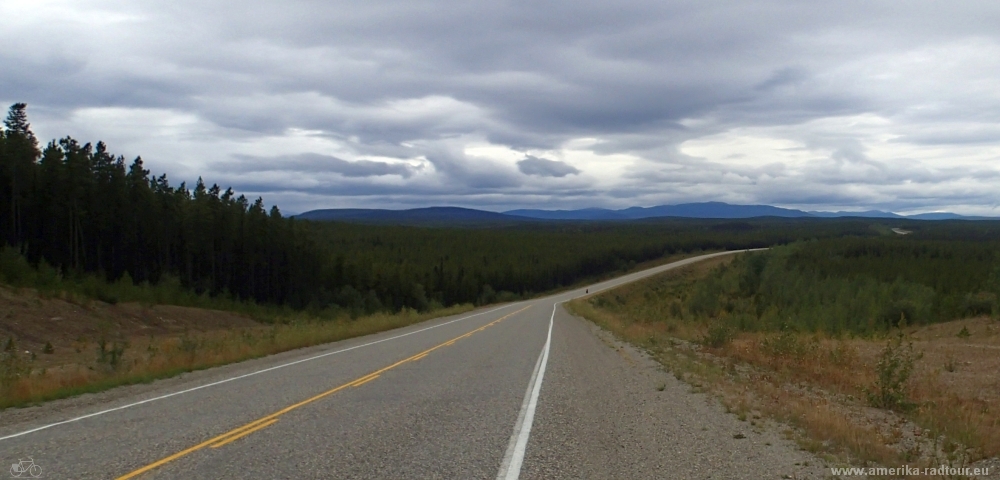 Here, in the north of Canada, the population density is very low and at the end of August, most tourists and their vehicles are already further south, making the population density an even lower number. Or to put it another way: no matter if locals or tourists - at this time of the year, there is no human being here. Thus we feel quite lonly here in the big Yukon.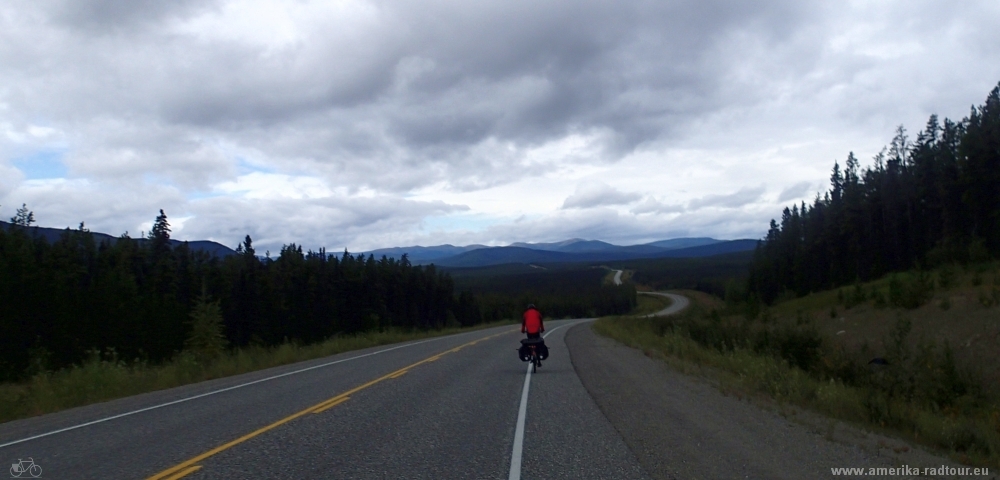 The landscape is magnificent in its vastness. Unfortunately, the weather does not mean well with us. If you get the impression that the weather is getting worse and worse from picture to picture, then maybe it's because the weather gets worse and worse from minute to minute.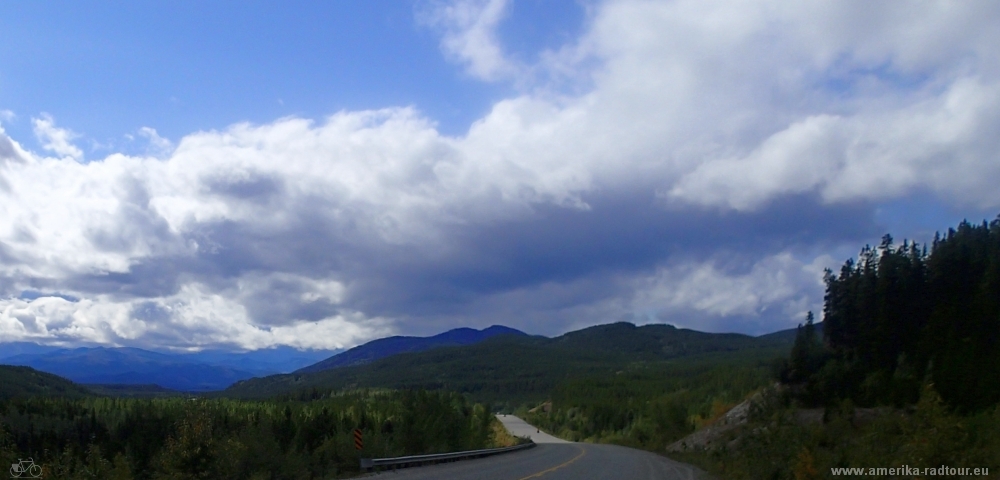 The Alaska Highway was strategically designed and built by the US government in 1942. Due to the time pressure and the imponderability of the mostly not mapped terrain, in some sections the construction took place without long-term planning. Details of the routing were decided on the spot based on local conditions.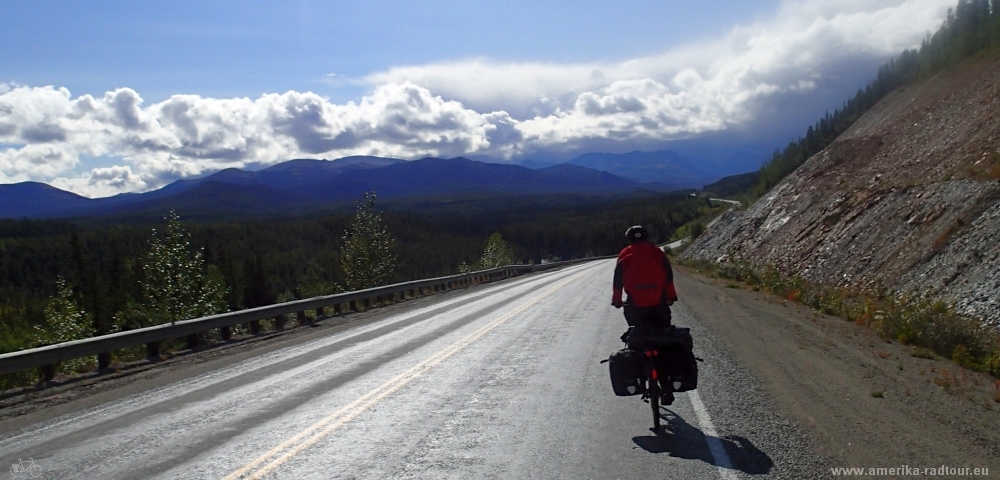 In the afternoon the sky is darkening and we are heading for a bad weather front.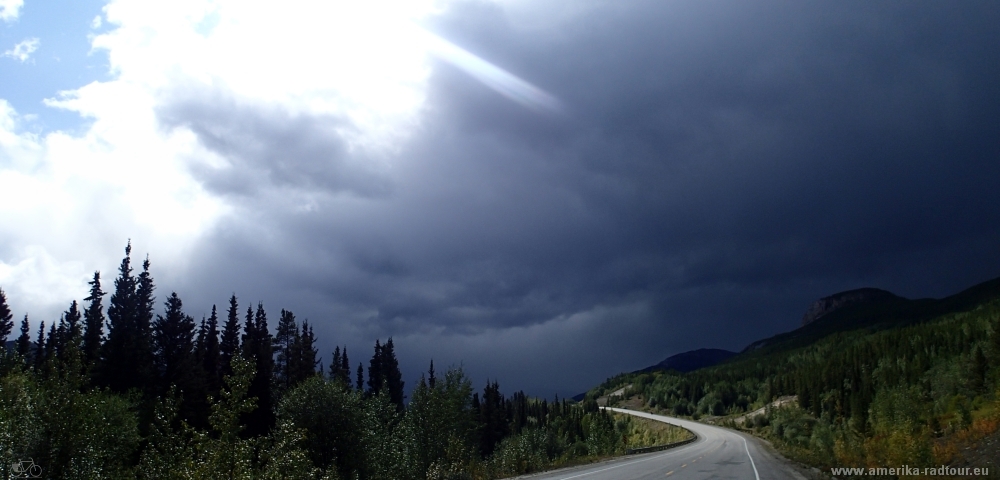 When we think that it can not get any darker, it gets darker and then darker again, and at the end a strong wind sets in. As the wind reaches a level that makes driving nearly impossible, we descend and secure the bicycles so that they can not be knocked over by the wind. Then an unpleasant hailstorm sets in: the wind whips the hail with no mercy towards us. Since the vegetation offers no significant shelter, we decide to stay on the road and turn our faces away from the wind. To minimize the surface attacked by the hailstorm, we stand close together.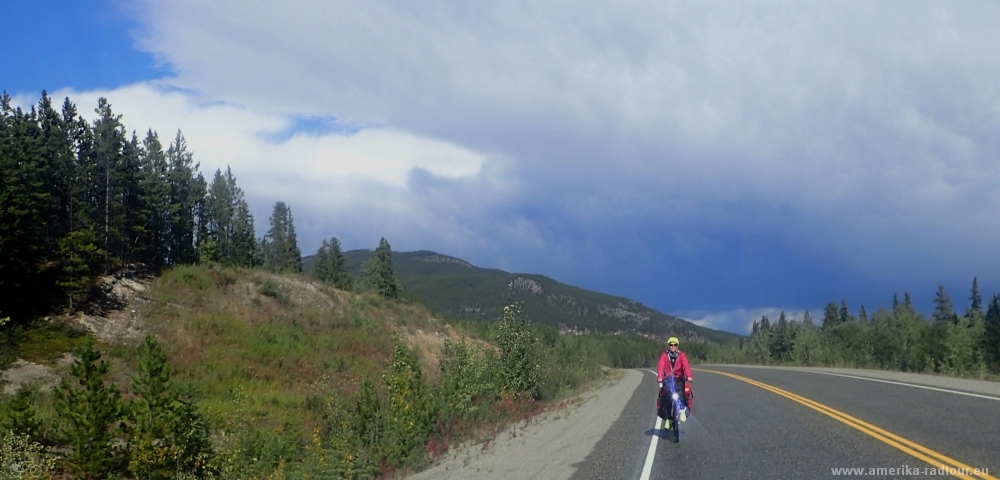 After about 5-10 minutes, the spook is gone, the headwind fades and after another 15 minutes, the sun comes out and dries the road, until the headwind becomes more violent again and we see the next gray wall approaching us. This time thankfully only torrential rain without hail. We interpret this as an improvement of the weather condition.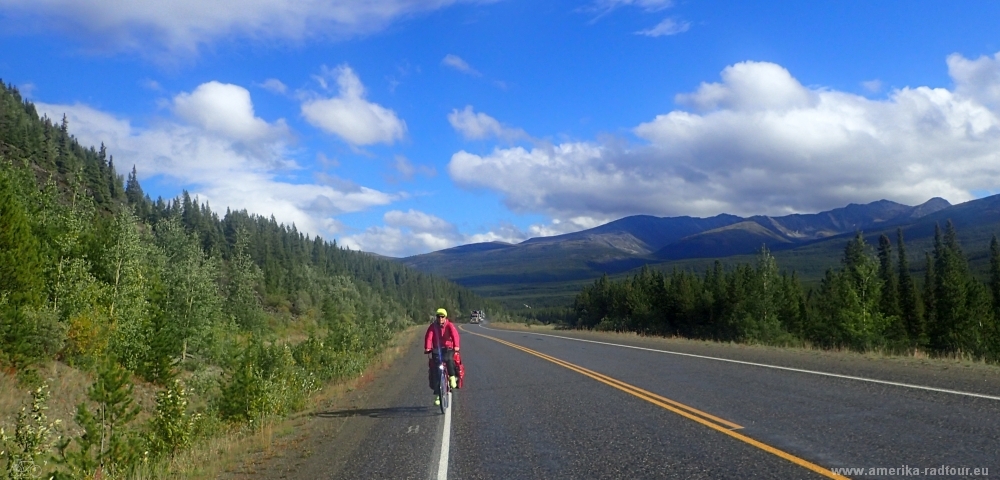 During the bad weather we cycle with the lights switched on to make sure we are seen by others. In the late afternoon, the weather improves that much that we dare to switch off the lights again.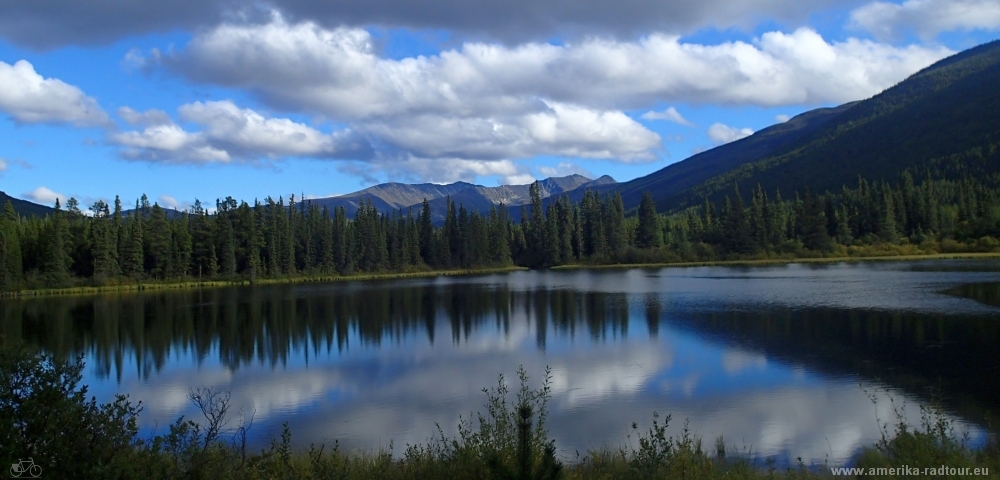 On our arival at Rancheria the weather improved. Here, at this place you can not only rent rooms but also get something to eat in the attached restaurant (2017).