Stage 2019/19 [A081]

Cantwell - Byers Lake (Parks Highway)

65 mi / 104 km

600 Hm (garmin edge 1000)
Cycling Whitehorse, Yukon to Anchorage, Alaska via Dawson City.
Stage from Cantwell to Byers Lake following Parks Highway.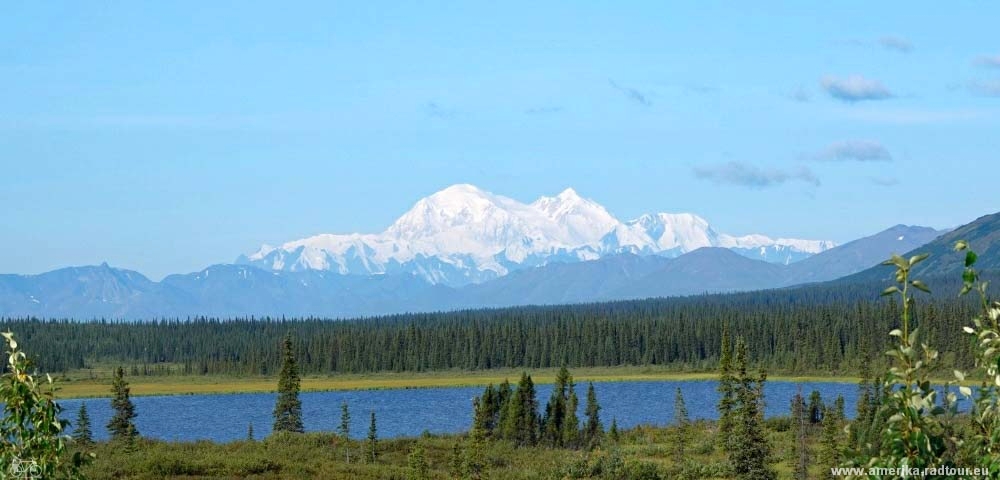 Before we leave Cantwell, we drive our bicycles over to the gas station again and have breakfast there. It's only a few minutes from the campsite, but in the early morning it's so cold that I can hardly wait for the hot coffee. We enjoy breakfast, hang on the coffe pot, but then we need to get started and go out into the cold: Parks Highway is waiting for us. The highway rewards us with a great view of Mount Denali, also known as Mount McKinley.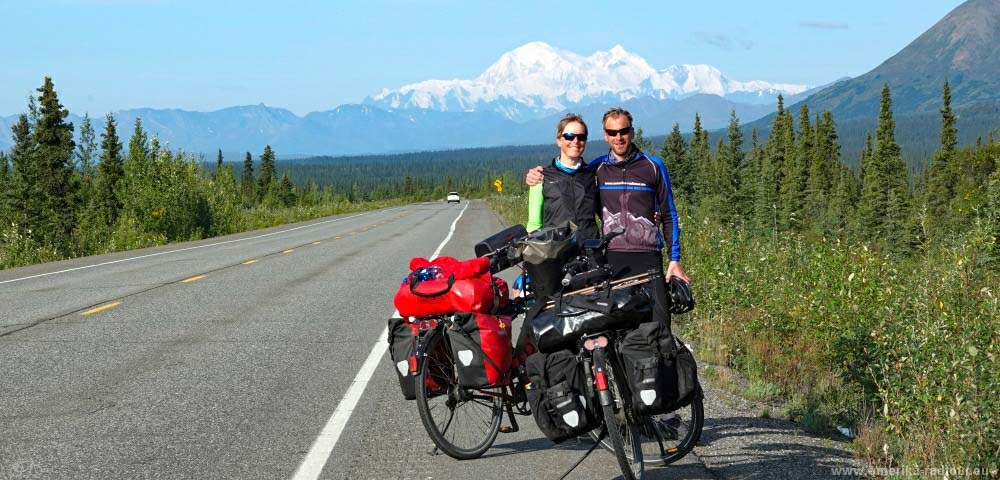 On or way south we stop several times to enjoy the view of the mountain. With an altitude of 6190m / 20310 ft, Denali is the highest mountain in the Alaska chain and at the same time the highest mountain in North America. The mountain stands pretty much alone in the landscape and, due to its isolated location, it is the mountain with the highest relief, no other peak in the world sticks out heigher from its surroundings than the Denali. Many people still make a huge bohei about the fact that the mountain is now called Denali and no longer named Mount McKinley. The statement that the mountain has always been called Mount McKinley is simply wrong: it was only called tMcKinley from 1917 to 2015, so less than 100 years. With the exception of a short break under Russian sovereignty, the mountain has always been called Denail by the local folks, which means "the great" in the Athapaskan language of the native people.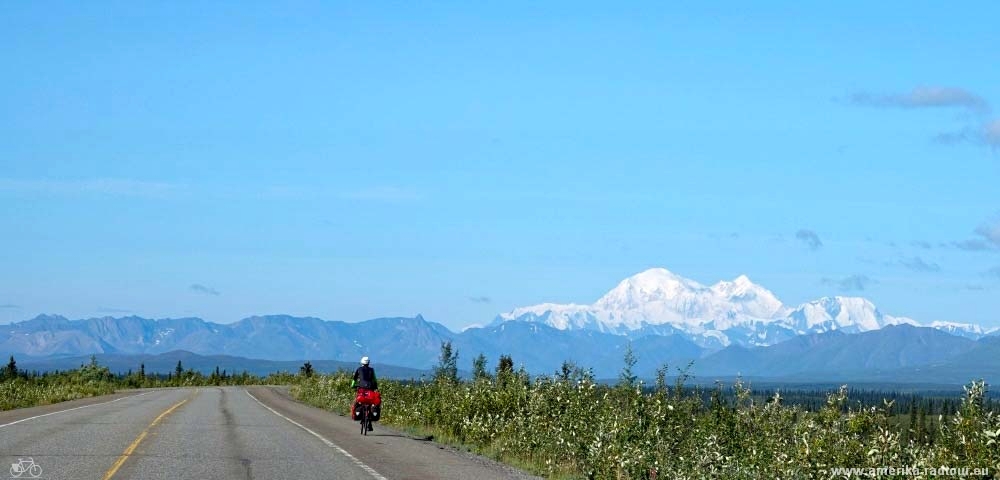 The traffic on Parks Highway is noticeably heavier than anything we've seen in the past few weeks. Nevertheless, it is relatively quiet here and cycling is fun.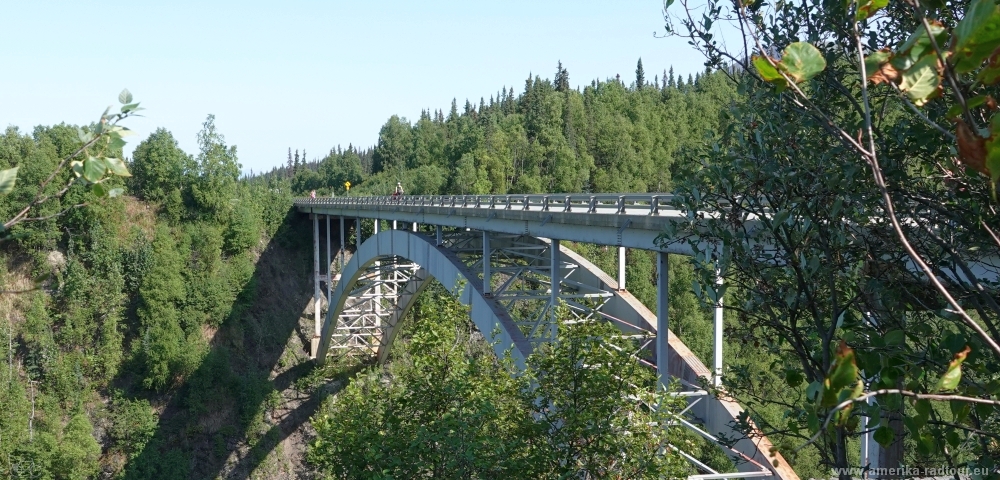 After 37mi / 60km we reach the Hurricane Gulch Bridge, which leads the Parks Highway about 78 m / 254 ft over the eponymous Hurricane Gulch. The steel bridge, which was opened to traffic in 1977, is around 168 m / 550 ft and offers a spectacular view.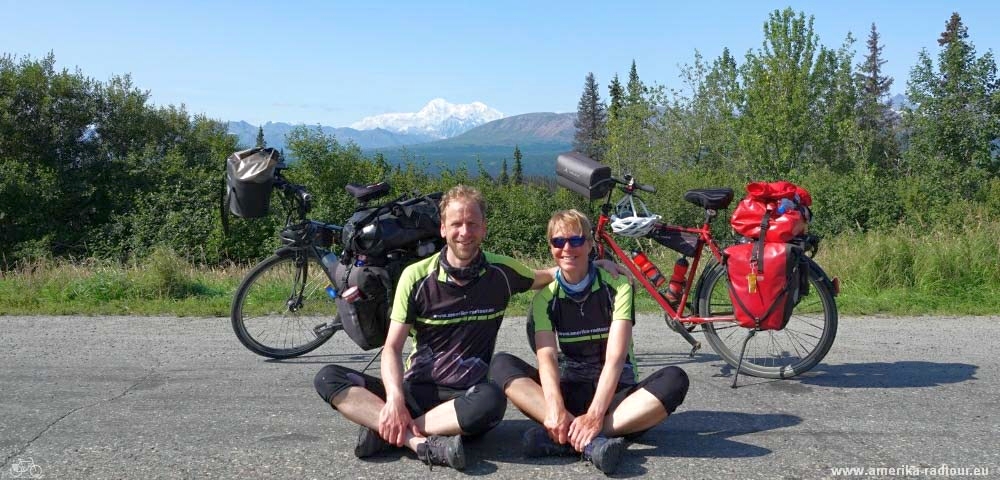 Group picture with Mount Denali.      

In the further course the Parks Highway is rather unspectacular. Incidentally, the highway is named after George Alexander Parks, a former governor of Alaska. Most people believe that the name is derived from Denail Park and mistakenly call the highway "Park Highway". To be honest: initially, I made the same mistake.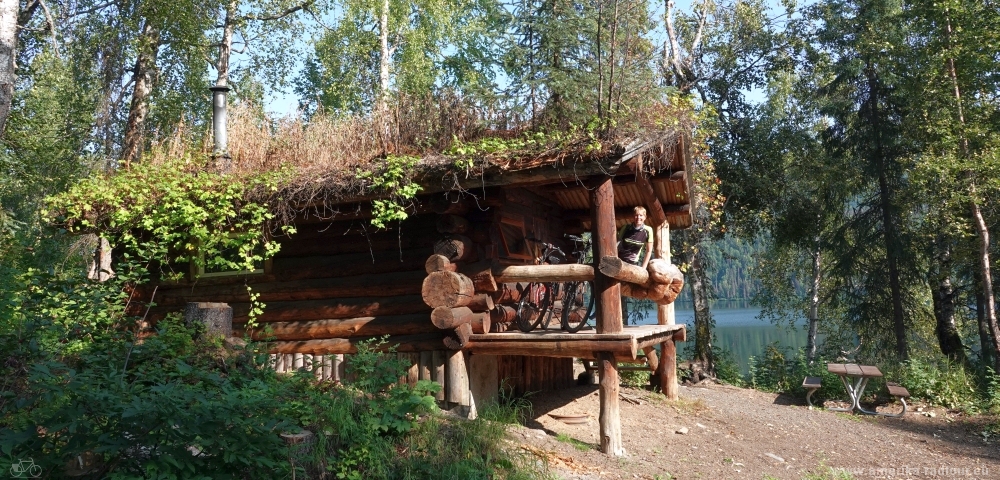 We spend the night at the campsite on Byers Lake. Since the campsite is closed in 2019 due to a bark beetle plague (and the falling trees due to the beetles), we do not stay in a tent but in a wooden hut that can be rented in advance from the park administration.