Stage 2019/20 [A082]

Byers Lake - Sheep Creek (Parks Highway)

58 mi / 94 km

400 Hm (garmin edge 1000)
Cycling from Whitehorse, Yukon to Anchorage, Alaska via Dawson City and Denali Highway.
Stage from Buyers Lake to Sheep Creek Lodge following Parks Highway.  

As I leave our cabin I meet a man who is walking his dog and looks up in shock when I suddenly come around the corner on a beaten path. After a short greeting, he asks me if I had seen a bear, an hour ago a black bear was hanging around here. No, we didn't, in retrospect the wooden hut was probably not the worst choice. After a short small talk with the dog owner, we sit on our bicycles and cycle back to Parks Highway.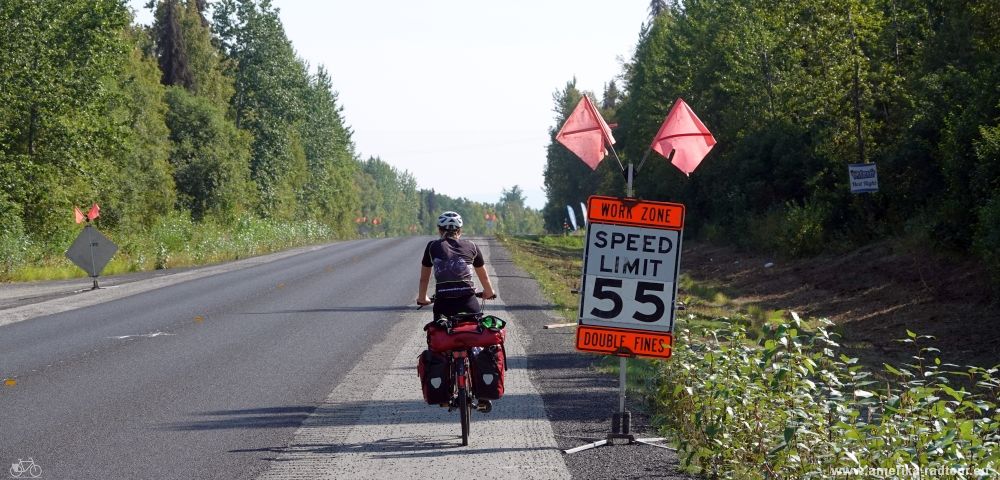 What I like about America are the very simple rules that they have. And tey do not only have easy rules, they tend to enforce them: In the area of ​​a construction site, i.e. where people work, the penalties for violating the permitted speed are doubled. At the beginning of the construction site there is a sign announcing the double penalty, and at the end of the construction site there is another sign next to the speed limit that will also cancel the doubling of the penalty. The concept of doubling the penalties, combined with speed measurements, means that people actually stick to the rules and don't drive too fast. I like things to stay simple.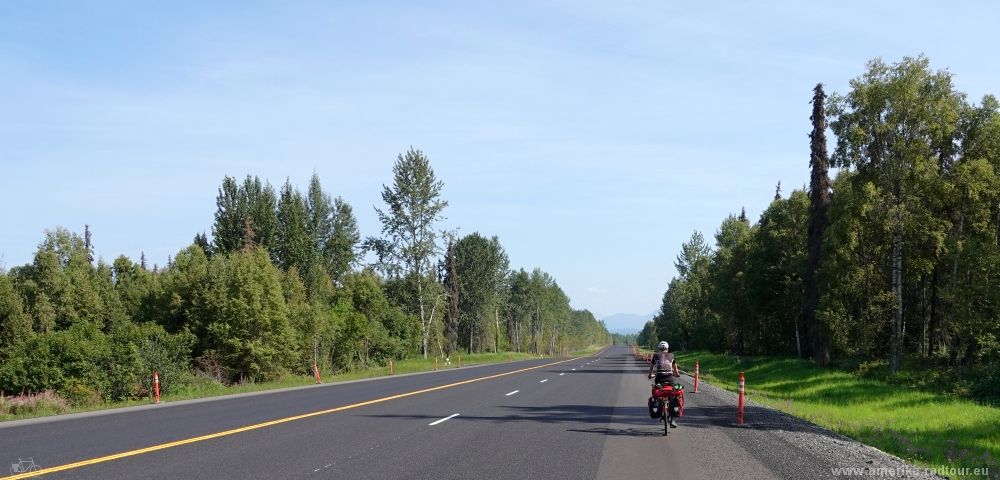 In the further course Parks Highway is rather unspectacular. Parks Highway, which is named after George Parks and has nothing to do with Denali Park, has strange concept of counting the miles and setting milestones: the highway starts at the junction with Glenn Highway with the Milepost mile 35, as the 56 km / 35 mi to Anchorage city center is included. If you cycle south and are on mile 36 on Parks Highway that means that you reach the end of the Highway in 1 mile. Or in other words mile 1 to mile 15 do not exist on this Highway.  

After 70 km / 43 mi we cycle over the Susitna River Bridge built in 1921.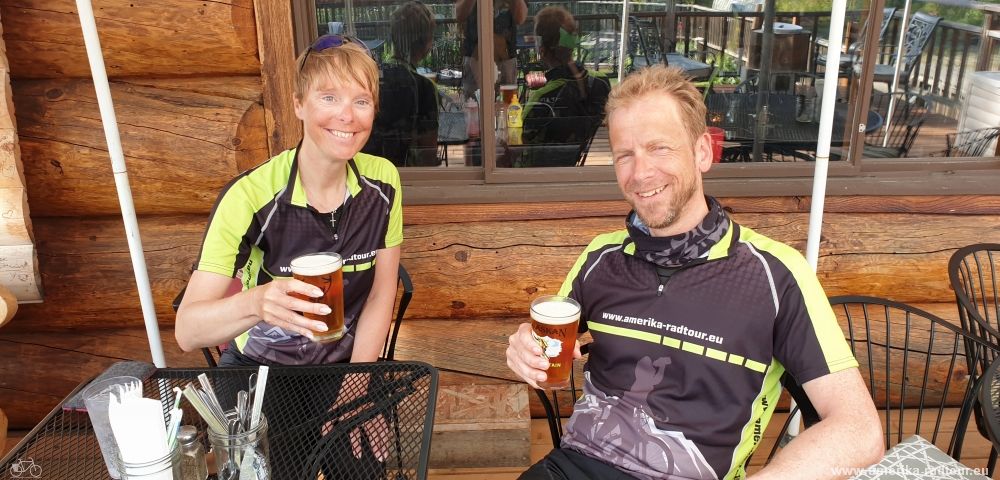 At the Sheep Creek Lodge we treat ourselves with a cold beer, the first since Delta Junction. It´s not only the availability of freshly tapped beer: we are back in the civilization, where almost everything is available in a large selection. The days where we had to plan our meals carefully in advance are over. On one hand it feels good to be back in the civilized world, on the other hand we already miss the mix of freedom, nature and vastness of alaska we were privileged to experience over the last weeks.