Stage 2013/04 [A004]

Bremerton - Belfair - Shelton - Elma

67 mi / 107 km

746 m (garmin etrex)
Cycling from Bremerton to Elma. Pacific coast Vancouver - San Francisco on a bicycle
Cycling from Vancouver to San Francisco following the Pacific Coastline.  
Stage from Bremerton to Elma.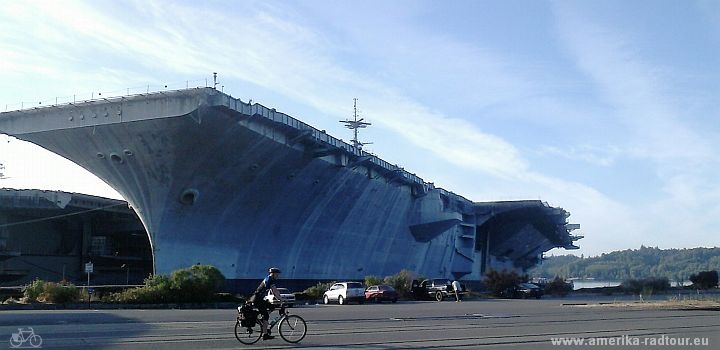 We leave Bremerton via Navy Yard Highway cycling past the mustered airport carriers USS Independence, USS Kitty Hawk and USS Constellation, which lie around here at the Puget Sound Naval Shipyard as a reserve. Presumably, because nobody knows exactly what do to with the 60,000-ton hull. Facing the size of the 320m-long ship, I feel rather small. Considering the age of the ship, which has already taken part in the Vietnam War, I feel rather young.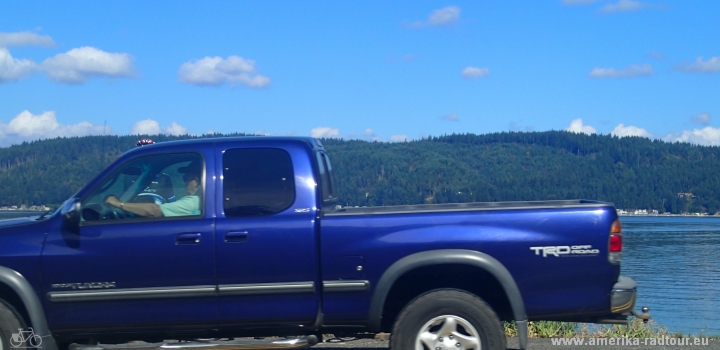 Shortly after Belfair, we leave Highway 3 and follow the 106. Even if we haven't really arrived at the Pacific yet, we enjoy the views of the water. A little unpleasant my attempt of this delayed action shutter release photo: Either I am not able to cross the street early enough due to the traffic, or a car is approaching exactly after having released the shutter.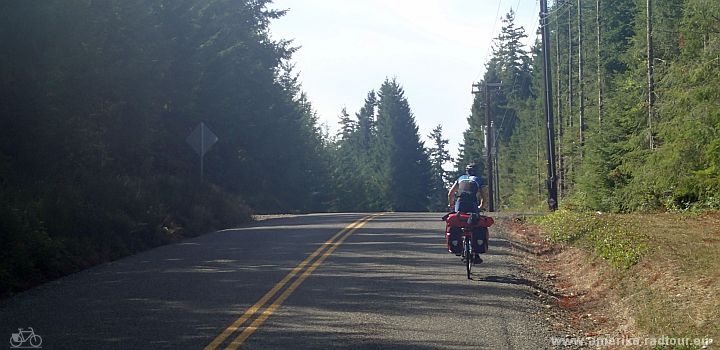 A little later we leave the shore and cycle up into the heart of the country. The rise is short and sweet, about 80 meters in altitude with a gradient of about 6 %. 

Fortunately, we stay at this height as a start and cycle along Lake Manson before we must go down to sea level for our lunch break in Shelton.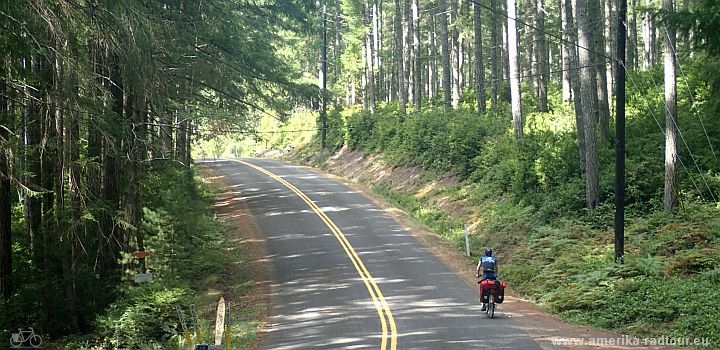 After lunch, we cycle uphill again: the Cloquallum Road leads through the dense forest first of all 60 m, then 160 m uphill. There are hardly any cars here; the stage is a very pleasant ride.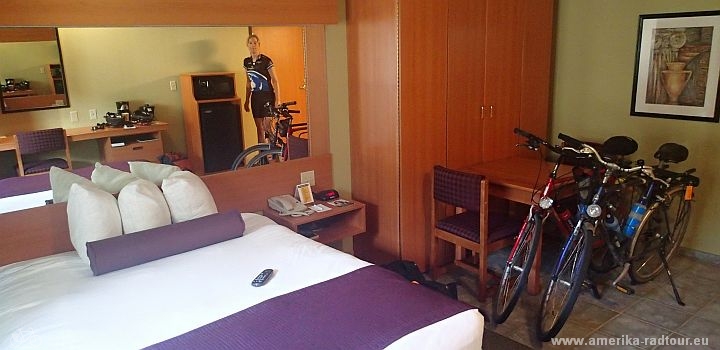 The check-in at the hotel is not that easy because the reservation from the booking portal on the Internet got lost. A room is available, that is not the problem. However, if we take the free room without notifying the booking portal, they will charge one night for the cancellation costs due to default of appearance. There is only one solution: Talking to the booking portal on the phone. Via my smart phone I dial the network of the hotel and google the number of the booking portal.
Then I make a big mistake: To save telephone costs I don't want to call there myself. For this reason, I pass my Smartphone showing the telephone number in its display to the guy at the reception and ask him to make the call for me. He takes my phone, looks at the number, nods in a friendly manner and makes the connection. In the following, he talks 10 minutes to the guys from the booking portal – on my expense! Great, I also would have been able to do that. When I tell his boss that the call of his employee is about to exceed the costs of the stay, the staff realizes what I actually wanted.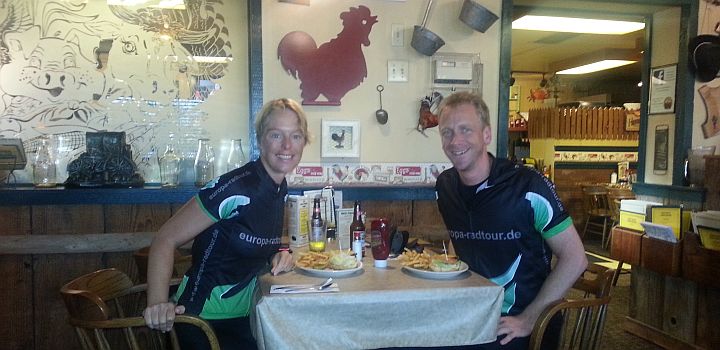 After the problem has been settled, the bike parked in our room and my mobile phone provider refloated, we eat at Rusty Tractor. Hamburger with French fries.