Stage 2013/05 [A005]

Elma - Oakville - Rochester - Toledo - Castle Rock

74 mi / 119 km

466 m (garmin etrex)
Cycling from Elma to Castle Rock. Pacific coast Vancouver - San Francisco on a bicycle
Cycling from Vancouver to San Francisco following the Pacific Coastline.  
Stage from Elma to Castle Rock .

Today we cycle across small side roads parallel to the main street. There hardly isn't any traffic, nevertheless we feel stressed by the unreasonably loud pick-up trucks.

Until lunch in Centralia the weather is fairly good. 

Around noon, the weather's becoming worse and the area slightly hillier.

The dark weather cares for a creepy mood in the forests.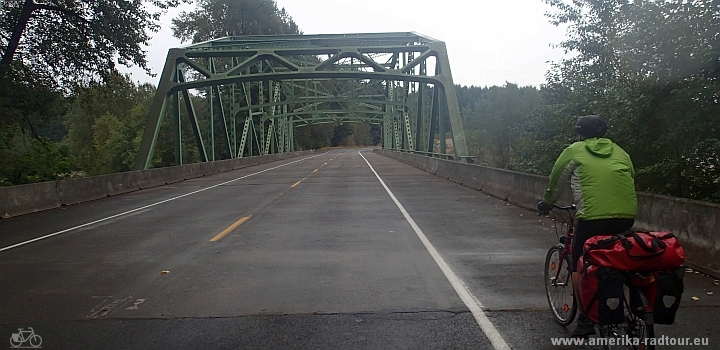 Here in America we take our bikes into our room every night. In Europe we have never been allowed to do so. Given today's motel room, I have the feeling that it's actually not the bikes that are standing in our room but that we are sleeping next to the bikes in a garage.

Beer of the day: Pyramid Weizen. We have dinner at a truck stop at the Highway. I order a first beer and another one when ordering the food (burger with French fries). After that, the waiter tells me that this will be my last one. Policy of the house: only two drinks per guest. Strange customs here! But at least the food was good.