Stage 2013/17 [A017]

Myers Flat - Avenue of the Giants - Miranda - Phillipsville - Garberville - Benbow - Piercy - Leggett - Rockport - Hardy - Westport

70 mi / 112 km

1557 m (garmin etrex)
Cycling from Myers Flat to Westport along the Avenue of the Giants. Pacific coast Vancouver - San Francisco on a bicycle
Cycling from Vancouver to San Francisco following the Pacific Coastline.  
Stage from Myers Flat to Westport via Avenue of the Giants.
One of the most epic cycling tours of the world.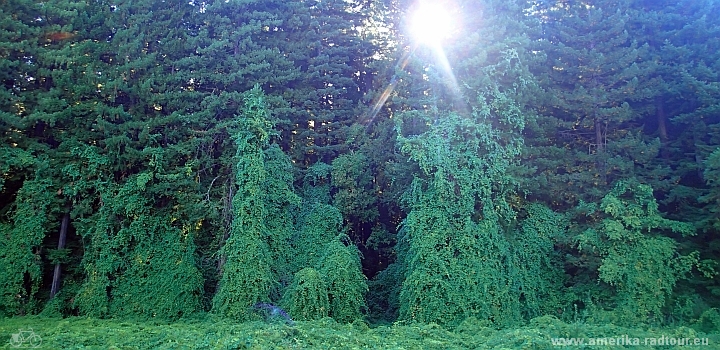 Today we are leaving the Redwoods following the Avenue of the Giants to the south.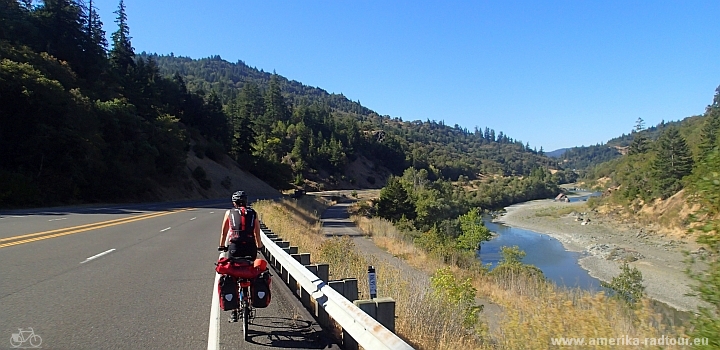 South of Phillipsville, the Avenue of the Giants ends and leads onto Highway 101. Since it is extremely hot today, we stay on the Highway although there is an alternative via side streets. Despite the traffic, the Highway is a pleasant ride and saves us from gradients over 5 %.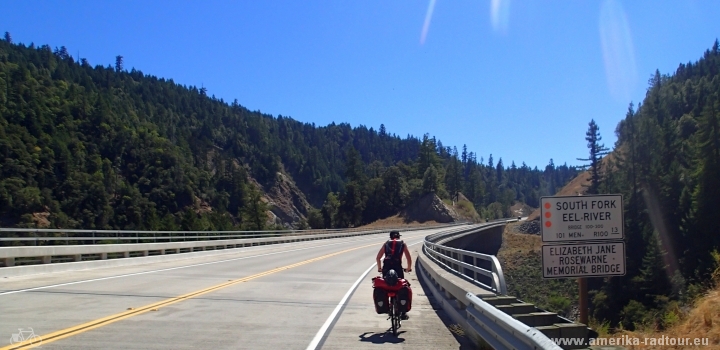 About 5 km south of Piercy, the midday sun is so hot that we decide to have a longer break in order to escape the terrible heat.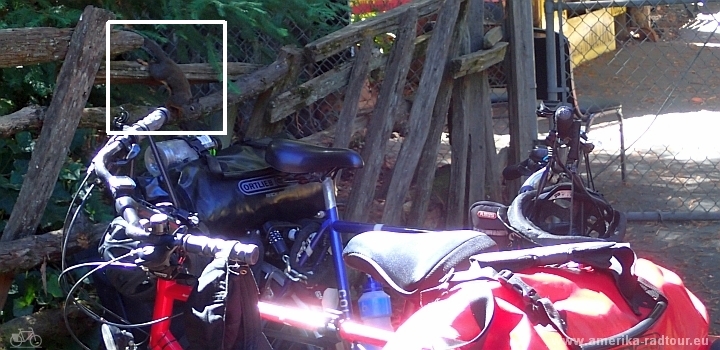 While we cool off a little in the shade, our bikes are being examined by a curious squirrel.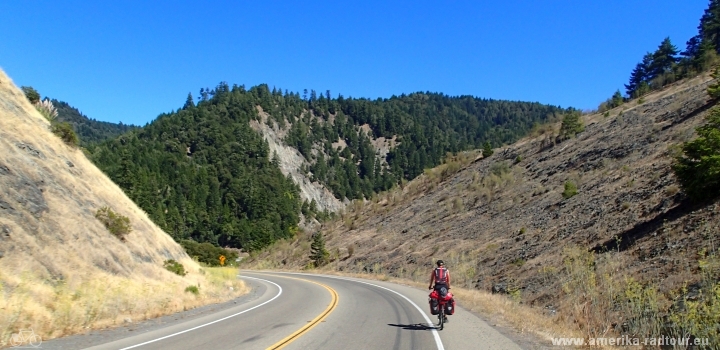 We continue south through the heat of California.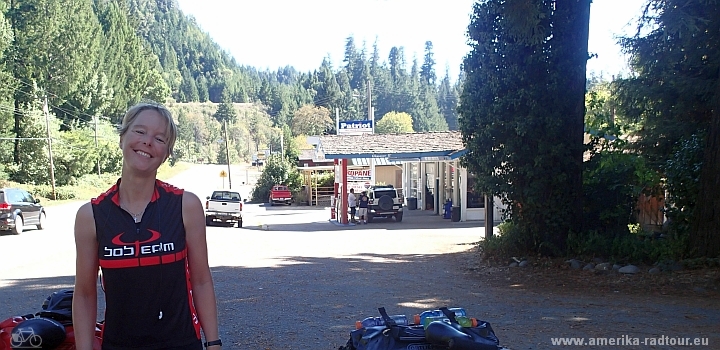 In Leggett, we leave Highway 101 and turn west. We thought we would be able buy something to eat in Leggett. However, the only supermarket is closed. At a small gas station we have a set meal from chocolate bars and chips. Shopping for dinner at the camping site is completely cancelled.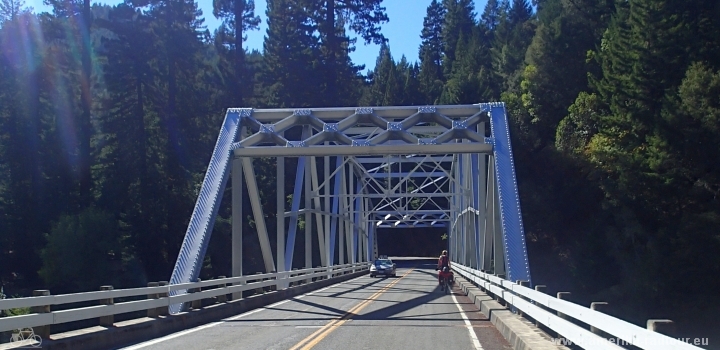 >We cross the South Fork Eel River for the ninth time and then tackle the second last hill of the day: only 230 meters in altitude but consistently with a gradient of 5 – 6 %.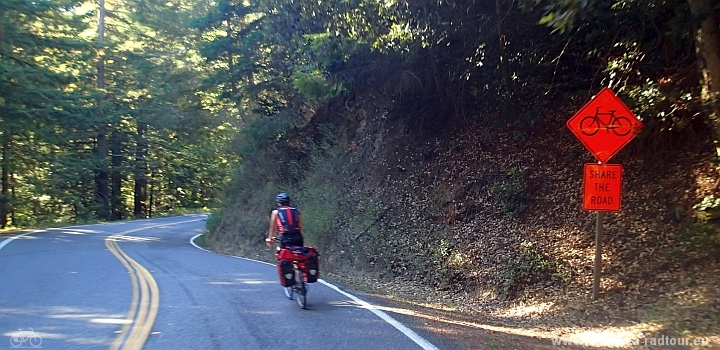 Shortly off the coast, finally the last gradient of the day: This time only 200 meters in altitude but with a constant gradient of 6 – 7 %.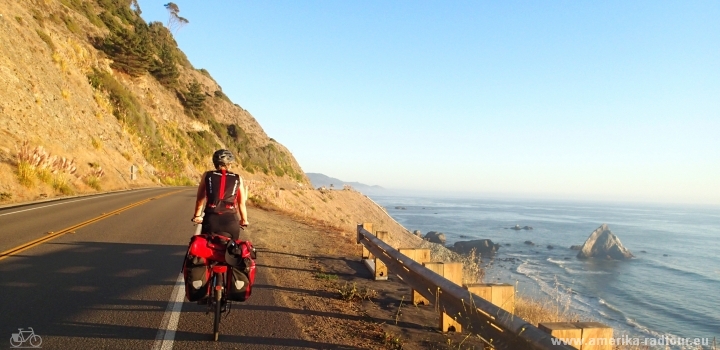 We are glad to finally be at the coast.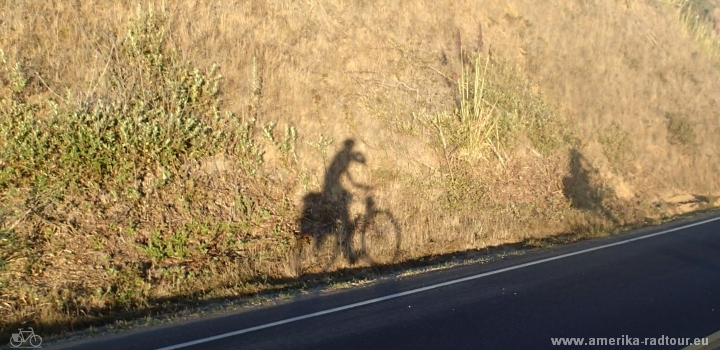 Because of the lunch break we prolonged because of the heat and the two gradients, which have given us more than 1500 meters in altitude today, it's going to be a long day. Our shadows become longer and longer.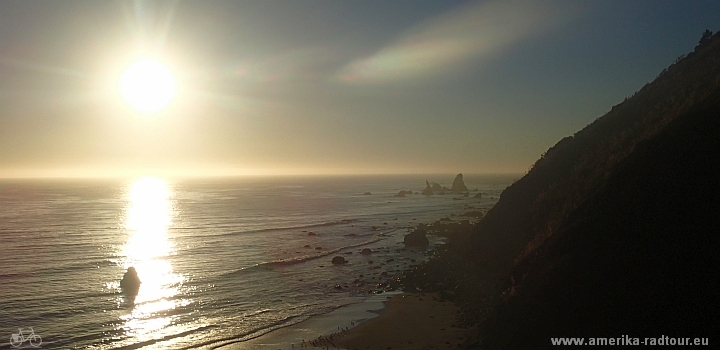 On our last kilometers of the day we come to enjoy a beautiful sunset.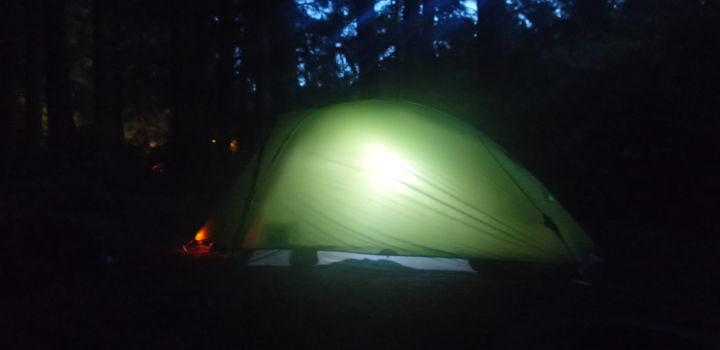 Finally sleeping time.