Stage 2013/20 [A020]

Bodega Bay - Valley Ford - Tomales - Nicks Cove - Marshall - Marconi - Millerton - Bivalve - Point Reyes - Tocaloma - Samuel P. Taylor State Park

42 mi / 67 km

818 m (garmin etrex)
Cycling from Bodega Bay to Lagunitas. Pacific coast Vancouver - San Francisco on a bicycle
Cycling from Vancouver to San Francisco following the Pacific Coastline.  
Stage from Bodage Bay to Lagunitas.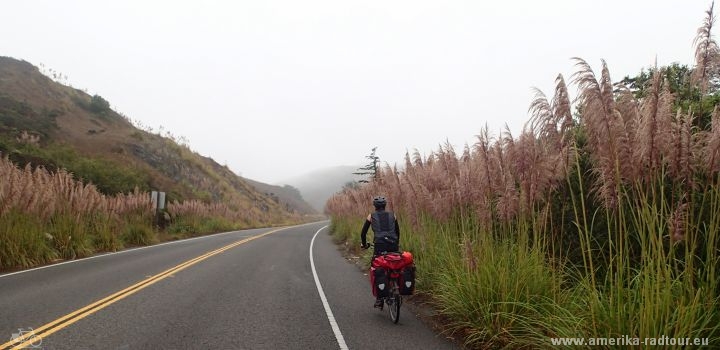 From Bodega Bay we follow Highway 1 in a big detour via Valley Ford to Tomales.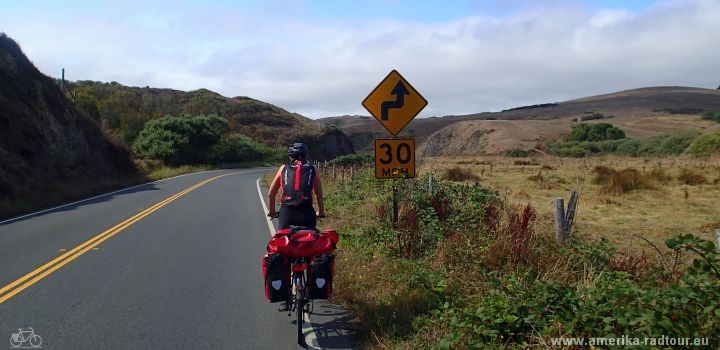 Although we are in the metropolitan area of San Francisco, the area is totally uninhabited.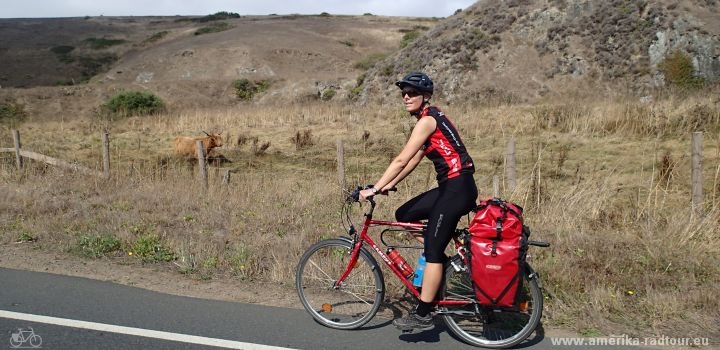 We come across more cattle than people. And the people we meet go by bike.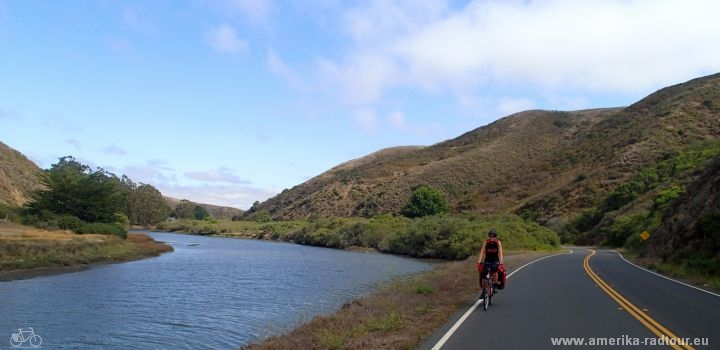 South of Tomales, we come upon Walker Creek, which . . .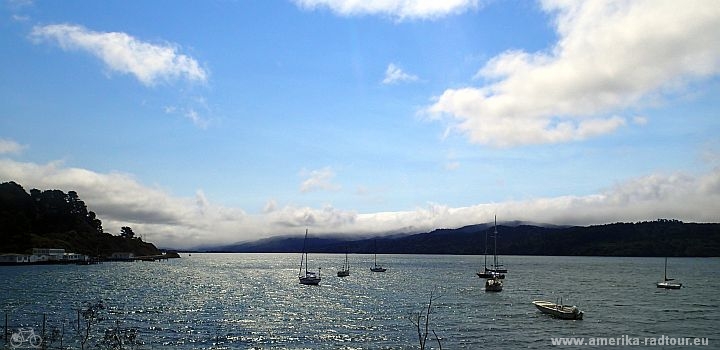 . . .flows into Tomales Bay.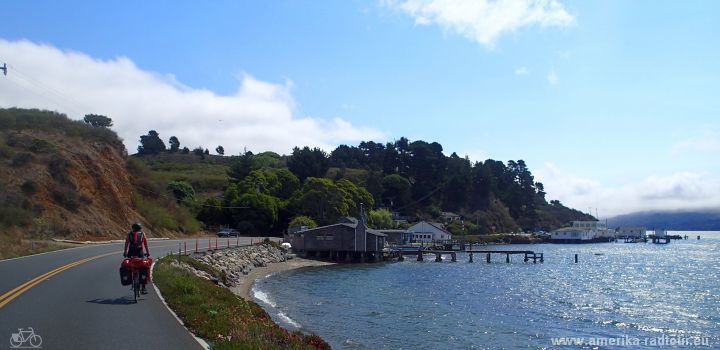 The bay is huge and unfortunately extremely windy. With lots of effort we struggle our way towards Point Reyes.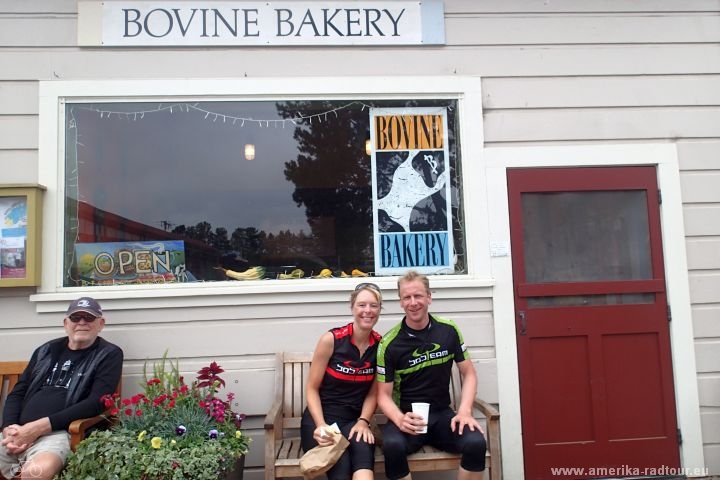 Bovine Bakery: This is the place to be in Point Reyes. The bakery was warmly recommended to us by local cyclists. During our lunch break we meet Roberta and John who are looking for an accommodation here. Since we have a lot of time today, we drink another coffee at the market hall before we set off.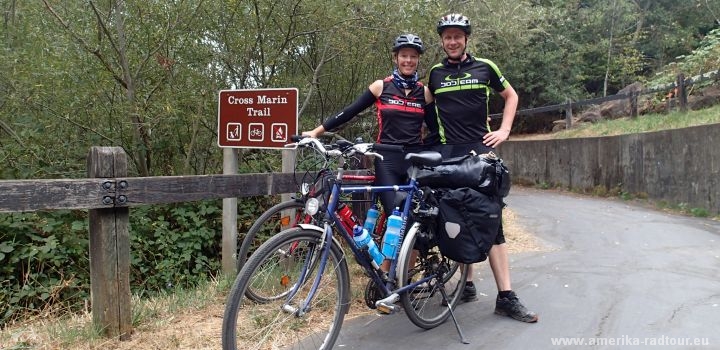 We first of all follow Sir Francis Drake Boulevard before we change over to the parallel Cross Marin Trail. The trail leads directly into Samuel P. Taylor State Park where we've planned our overnight stay.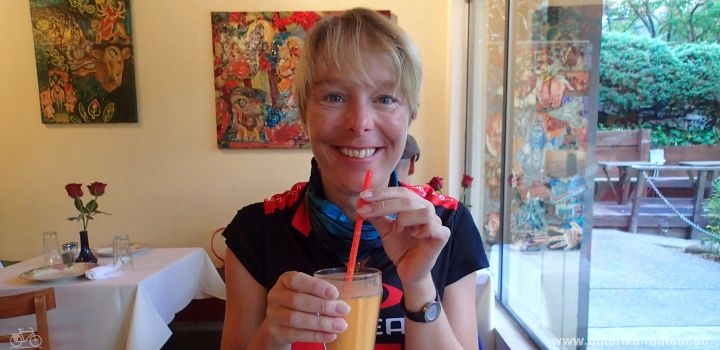 In contrast to other cyclists we have planned all stages in advance. For tonight we have not only planned our night stay at the State Park, but also our dinner in an Indian restaurant 5 km further east in Lagunitas. The food there is extremely recommendable and worth the small detour from the State Park.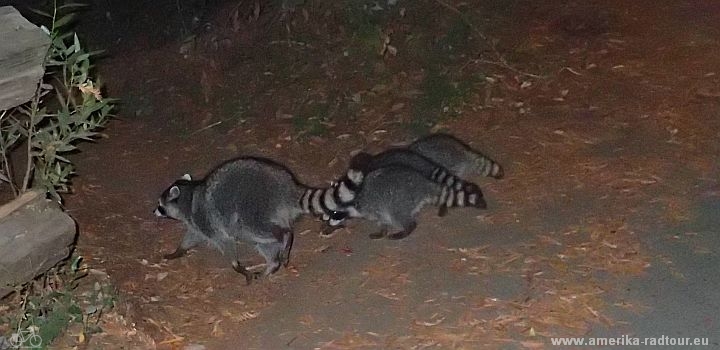 Also during this night we are visited by raccoons. However, this time we are wiser and have locked everything edible in a raccoon-secure safe. With torch and camera I go stalking and follow the raccoons. When I find them I am more surprised than the raccoons, which seem to end in smoke under a hedge in front of my eyes.